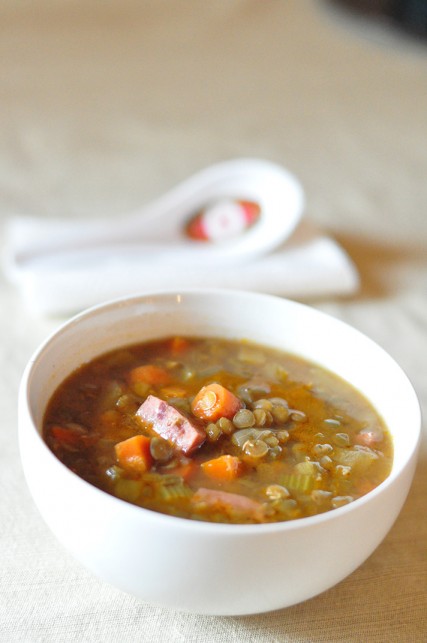 This lentil soup is pure comfort food. Simple but hearty flavors, our dear Barefoot Contessa has hit the nail on the head again. She's one of those cookbook writers I can count on to deliver with each recipe–I've made dozens of her dishes, with only one flop that I can recall (the weeknight bolognese, for those curious).
From her cookbook Barefoot in Paris, this soup has lots of fresh veggies–onion, leeks, celery, carrots–a hearty stock, and tasty chunks of kielbasa sausage. Basically, this soup just can't go wrong. As long as you're willing to do some choppity-chopping for about 10 or 15 minutes, the rest of the soup makes itself.
Well . . . kind of.
Anyway, it's a great dish for a crowd, so break out your stock pot and your sharpest knife and enjoy!
And at this point, it's time to insert random pictures of my adorable toddler.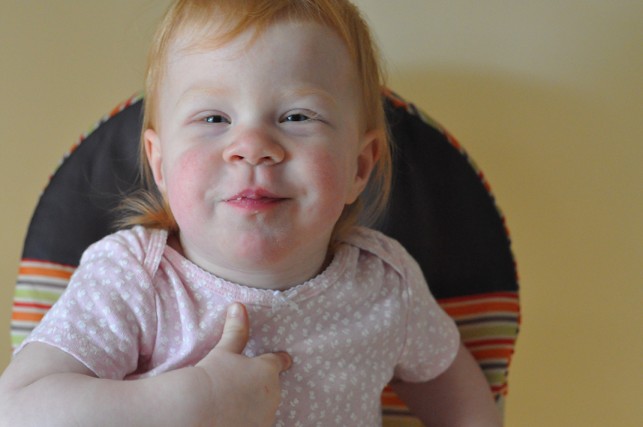 She'll be two at the end of October, and right now, lifting things is her life.
Popcorn is also her life.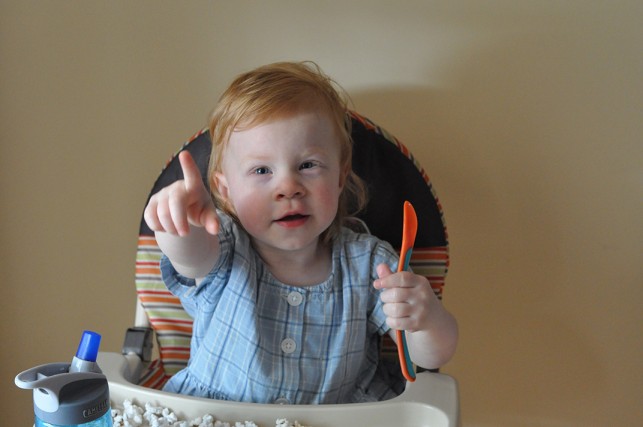 She calls is "pakazzah."
We dress up in bibs together.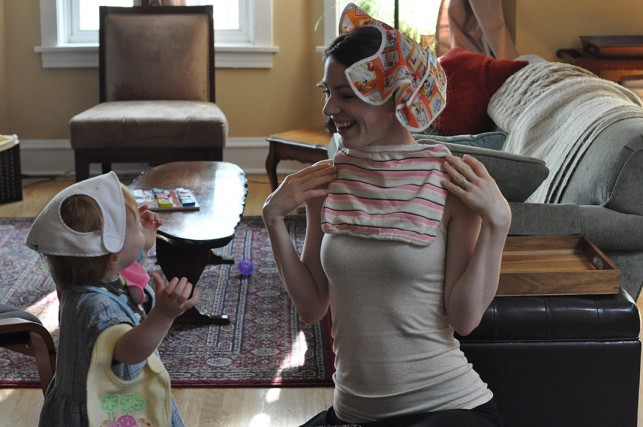 Enjoy the soup, my friends!
Ingredients
(Serves 8)
1 pound French green lentils
¼ cup olive oil
3 large onions, diced
2 leeks, white and light green parts finely sliced
2 garlic cloves, minced
2 tsp kosher salt
1 ½ tsp black pepper
1 ½ tsp dried thyme
1 tsp ground cumin
8 stalks celery, diced
5-6 carrots, diced
3 quarts chicken stock
¼ cup tomato paste
1 ½ lbs kielbasa sausage, cut in half-moons
1 TBS red wine vinegar
Sprinkling of Parmesan
Put the lentils in a large bowl and pour boiling water over them. Let them sit for 15 minutes, then drain.
Heat the olive oil in a huge pot (like a stock pot) and add the onions, leeks, garlic, salt, pepper, thyme and cumin. Cook for about 20 minutes, stirring occasionally, until the vegetables are tender.
Add the celery and carrots, and cook for another 10 minutes.
Pour in the chicken stock, and add the tomato paste and lentils. Bring it to a boil.
Lower the heat and let the soup simmer for about 1 hour, uncovered, until the lentils are tender.
Taste for seasoning, adding salt and pepper as needed.
Add the sausage and vinegar. When the sausage is hot, it's ready to go!
Serve drizzled with olive oil and sprinkled with a little Parmesan, and with a loaf of crusty French bread.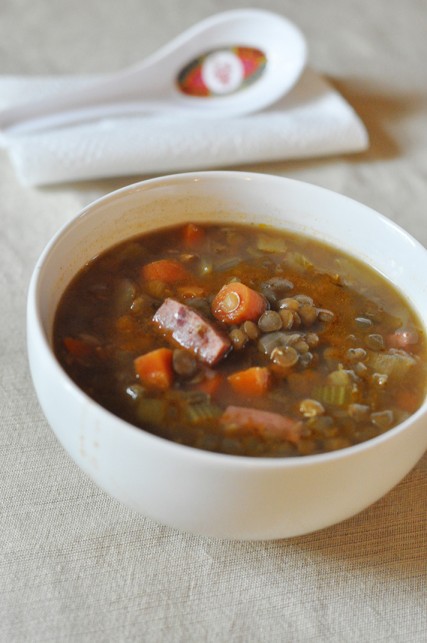 Click here for printer-friendly version: Lentil Sausage Soup