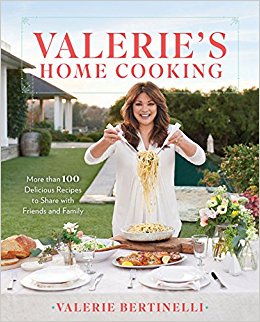 When I received an email asking me if I wanted to review Valerie Bertinelli's new cookbook, I didn't hesitate.
YES, I said. SEND IT. HERE'S MY ADDRESS, SOCIAL SECURITY NUMBER, AND THE SOCIAL SECURITY NUMBERS OF ALL MY CHILDREN. Just send me all the cookbooks, and then send me the cousins of the cookbooks.
See, I love cookbooks. I love every one of my two shelves-full of cookbooks and I have room in my heart (though not my shelf) for more, so many more. (Who needs shelves anyway? Stacks. Therein lies the future. Stacks and stacks all over my house. It will be an obstacle course of cookbooks. The kids will think it's a blast.)
Had I ever heard of Valerie Bertinelli? No. Apparently she's doing a food show. Apparently she's some kind of celebrity. But I didn't need to know her in advance in order to fall in love with her cookbook.
First, the pages. They just felt nice–like, the paper just had this lovely feel to it (know what I mean? and if you don't, you'll never understand why I don't own an e-reader). Then, her writing–positive and fun and relatable. The photography–beautiful. It made me want to be in LA, sitting on a terrace, preferably dressed in a silk robe with a plate of avocado toast on my outdoor dining set. (Winter in Chicago does tend to do that to one) And finally, the meat of the thing: her recipes.
Usually, in a cookbook I love (such as Nigella's Kitchen, my most recent fling), I'll end up being attracted to maybe half the recipes, and out of those, form a long-lasting relationship (i.e., by actually cooking them) with maybe a dozen. Any number of recipes in any given cookbook I claim to love may not attract me because of the photography, my taste, the number or type of ingredients required, or the level of complication.
Valerie's cookbook is different. I have decided this is because our tastes are aligned. Just like stars and planets doing their magical celestial thingy-things, Valerie and me are linked. I kept turning pages and thinking, "yes, I'll make that. Uh-huh. Mmm, want to eat that. Yeah, I can make that."
Her recipes are down-to-earth, not too complex, and delicious-looking.
Just like me. Down-to-earth (yep, uh-huh), not too complex (hmm . . . okay, little stretch of the truth there) and delicious-looking (okay, that's only at 8am, that magical moment when my make up is freshly done, hair just went up, and I have yet to be spit up on by my baby).
Anyway. While I may be delicious-looking only between 8am and 8:10am, Valerie's cookbook is delicious-looking 24/7.
Wow, I'm getting off the beaten track here.
Anyway, it's super affordably priced on Amazon–as of the day I'm writing this, half the list price (score!)
So if you're a cookbook lover, pop 'er in your Amazon cart, check 'er out at your library, walk down to your local corner bookstore, download it to your e-reader–whatever it takes to get this awesome cookbook into your hands!
Also, if you want to try the recipe I'm planning on making next week, here's her recipe for BLT pasta. Just look at this picture and tell me you don't want to make it.
BLT Pasta
Serves 4
Hands-on 25 minutes Total 35 minutes
Ingredients
12 cups water
¼ cup plus 1/2 teaspoon kosher salt
2 pounds plum tomatoes (about  10 tomatoes)
6 thick-cut bacon slices, chopped
1 medium yellow onion, halved and thinly sliced
1/2 cup dry white wine
1/4 teaspoon black pepper
1⁄8 teaspoon crushed red pepper
12 ounces uncooked spaghetti
4 cups fresh baby arugula
1/4 cup chopped fresh basil
Grated fresh Parmesan cheese
Bring the water and 1/4 cup of the salt to a boil in a large saucepan over high. Hull the stems from the tomatoes. Cut a shallow "x" through the skin on the bottom of each tomato.
Place the tomatoes in the boiling water, and boil about 30 seconds. Using a slotted spoon, remove the tomatoes, and submerge in a bowl of ice water to stop the cooking process. Reserve the salted water in the saucepan.
When the tomatoes are cool enough to handle, peel back the skin using a paring knife. Cut the tomatoes in half lengthwise; squeeze out and discard the seeds. Chop the tomatoes into 1/2-inch pieces.
Place the bacon in a cold large skillet; cook over medium, stirring occasionally, until crisp, 10 to 13 minutes. Drain the bacon on a paper towel-lined plate. Reserve 2 tablespoons drippings in the skillet.
Add the onion to the hot drippings in the skillet; cook over medium, stirring occasionally, until soft and lightly golden, about 10 minutes. Add the wine; cook until the liquid is reduced by half, about 3 minutes. Add the chopped tomatoes, black pepper, crushed red pepper, and remaining  1/2 teaspoon salt to the skillet; cook, stirring occasionally, until the tomatoes begin to break down, about 5 minutes.
Return the reserved salted water in the saucepan to a boil; add the spaghetti, and cook until al dente, about 10 minutes. Drain the pasta, reserving 1 cup of the cooking water. Add the pasta and 1/4 cup of the reserved cooking water to the tomato mixture in the skillet; toss to coat. Add more cooking water, if necessary, until the mixture reaches the desired consistency. Transfer to a large bowl; toss with arugula and half of the chopped bacon. Divide evenly among 4 serving bowls; top evenly with the basil, remaining chopped bacon, and Parmesan.
Variation: This is easily adaptable to whatever you have on hand, like spinach and linguine instead of the arugula and spaghetti.
Cooking Tip: This is another time I like to sauté my bacon instead of using the oven. All those yummy hot bacon drippings.
Click here for printer-friendly version: Valerie's BLT Pasta