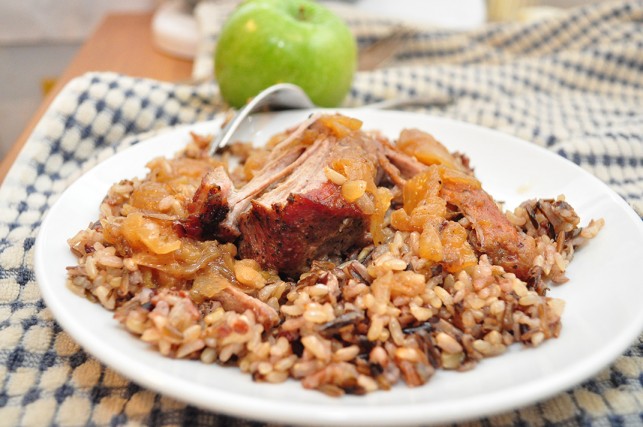 This lovely post on the P-Dub's site caused some swift action in my kitchen. I wasn't going to put this on my list of recipes-to-make and let it sit around for months, waiting its turn. I had to make it immediately. So I bought the ingredients and bellowed "Haruzziah!"
All Sunday afternoon it cooked away in the oven, infusing our apartment with the most delectable smells. And the flavors! Onions cooked to sweetness, tart apples, rich, tender pork with its flavor deepened by the beef stock . . . aaaah!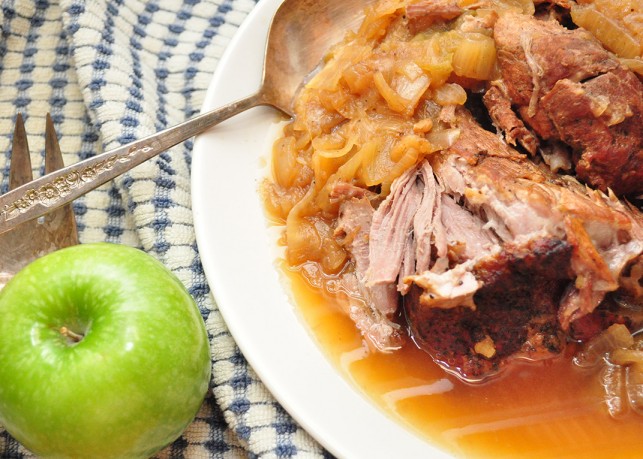 Plus, this is one of those meals that keeps excellently in the fridge and just gets better with time. Granted that the leftovers resemble a pile of brown who-knows-what, but once you take a bite, you won't be complaining!
Ingredients
( Serves 8 )
3 TBS olive oil
1 3-4 lb pork shoulder roast (pork butt)
Salt and pepper, to taste
4 cups apple juice
1 cup beef stock
3 apples
3 onions
2 bay leaves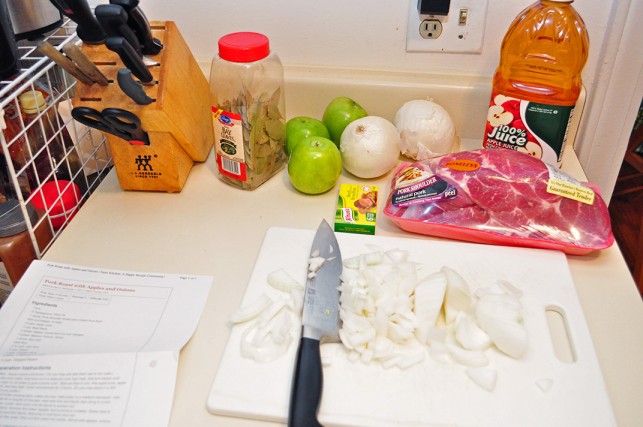 As you can see, I went ahead and sliced the onion up for the ingredients picture. I was in maximum efficiency mode. Stomachs were growling, hunger was churning.
Core the apples and cut them into wedges.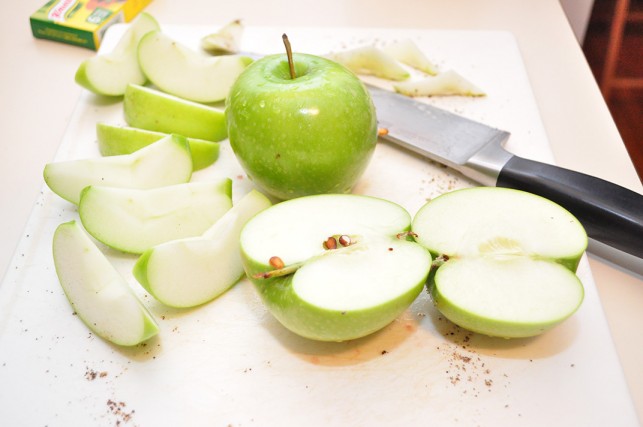 No need to peel 'em!
Sauté the onions in a large Dutch oven until brown.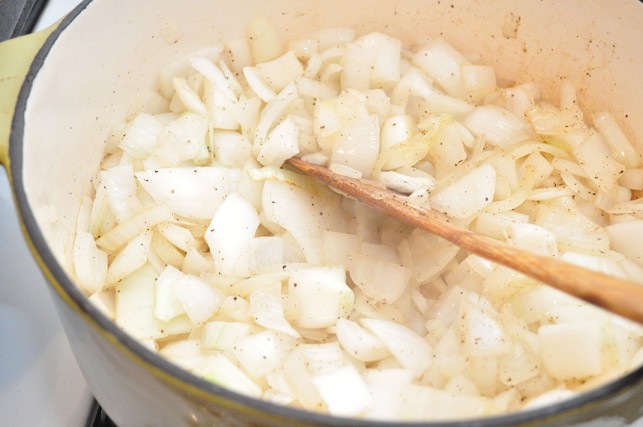 I should note that this is optional—you can also just add them raw to the roast. Set the onions aside.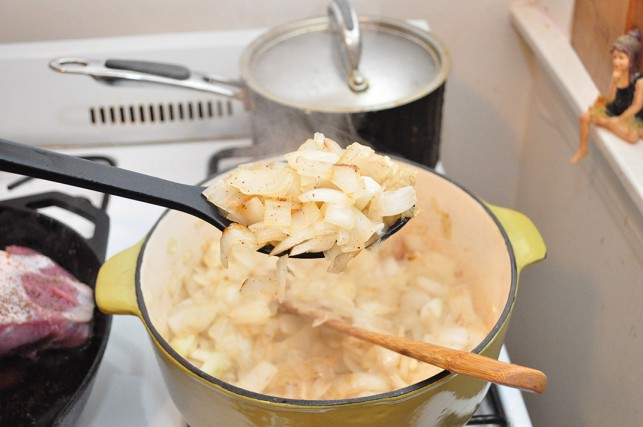 Sprinkle the meat all over with salt and pepper.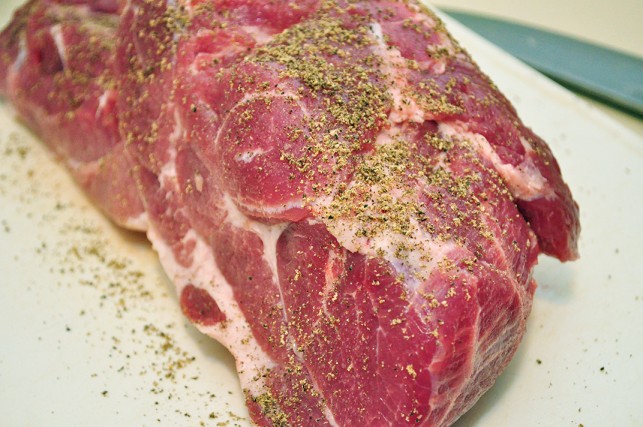 Heat the oil in the Dutch oven, and when hot, sear the pork roast on all sides, sprinkling it liberally with more salt and pepper as it cooks.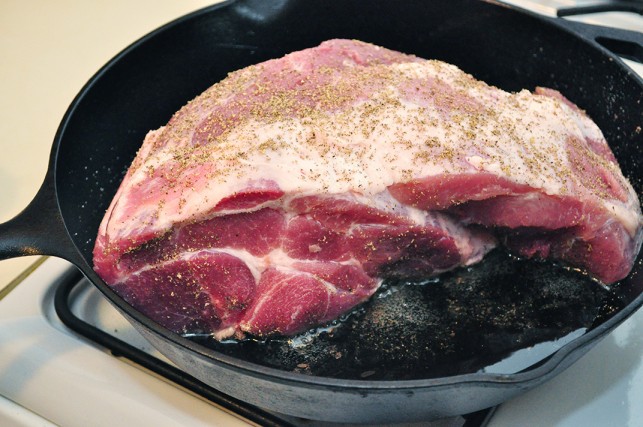 I chose to take care of this in the cast iron skillet as the onions cooked in the Dutch oven, once again in the interest of time.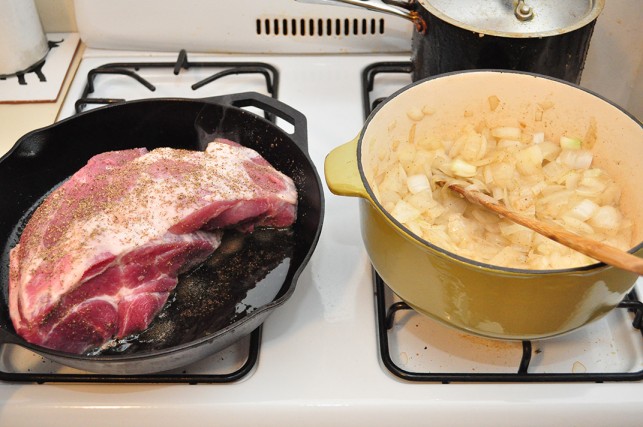 But ideally you'll sear it in the same pot it's going to slow-cook in, so that all the flavor is contained.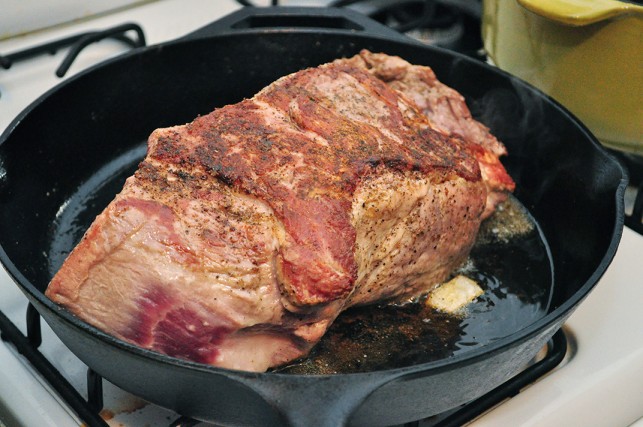 Looking brown and glorious!
At this point it became apparent that with the size of the hunk of pork and the bounty of apples and onions, the green Dutch oven was not going to cut it. So we made a move that is now becoming strangely familiar . . .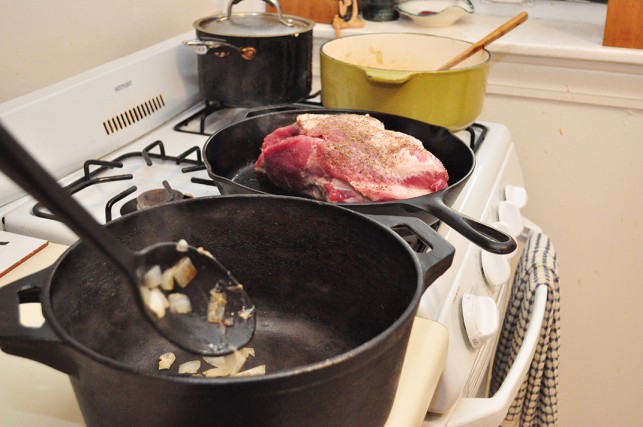 . . . and divided it into 2 Dutch ovens. Double the ovens, double the fun.
In retrospect, I think everything could have fit it the black cast iron Dutch oven, which may be slightly bigger. But no harm done either way! The result was delicious pork, and I have no regrets.
Lower the heat, and add the apple juice, apple slices, onions, beef stock and bay leaves.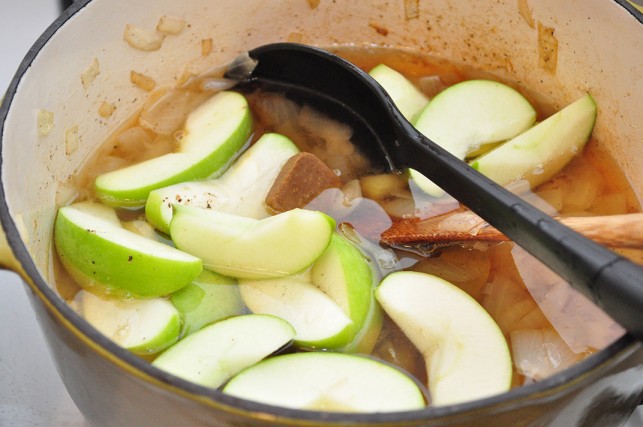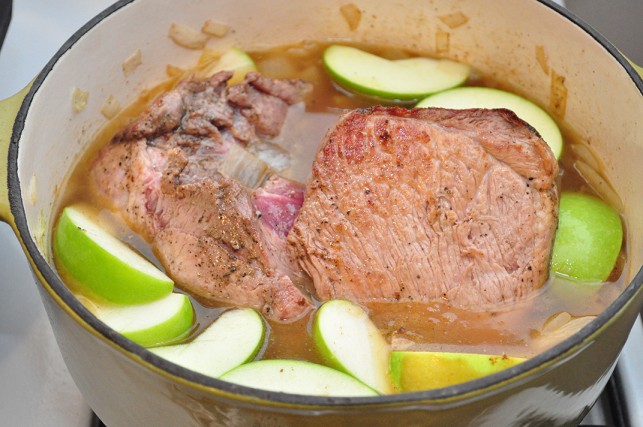 Try and make sure the meat is as submerged as possible., then cover and either simmer it on the stove or place it in the oven at 300 F for 3 hours.
You can use this time to crochet, watch an episode of 30 Rock, do some Pilates, or work on your photo album. Or lie in a salivating stupor on the couch, awaiting the moment when the pork will be yours. Though I don't recommend that last option–it could make those 3 hours feel like an eternity. Here, I'll make up an annoying poem:
Busy hands make time go fast
so do some work and have a blast
but if you lie upon the couch
you will just become a grouch
No more moralizing, I promise–but that poem just had to come out.
You can also use this time to cook up a batch of wild rice: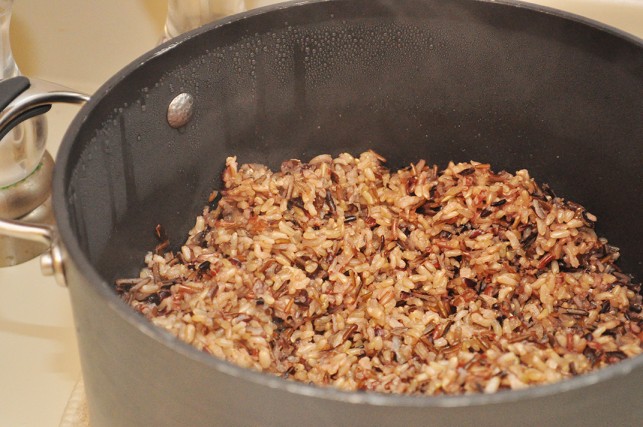 When the roast is done . . .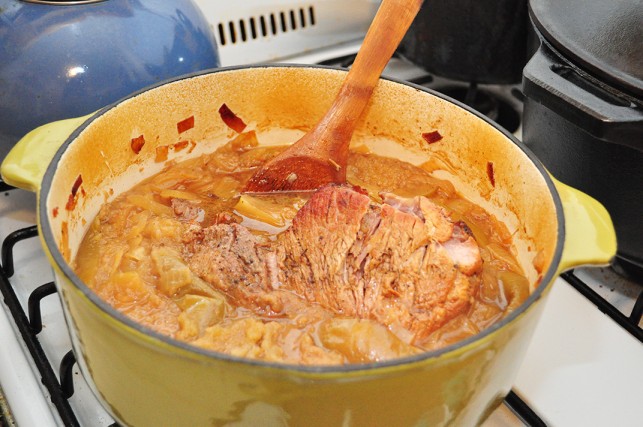 . . . you must examine the tenderness of the meat. I broke this one apart a little, but the other roast stayed magnificently in one beautiful piece. Either way works, depending on the kind of presentation you're going for.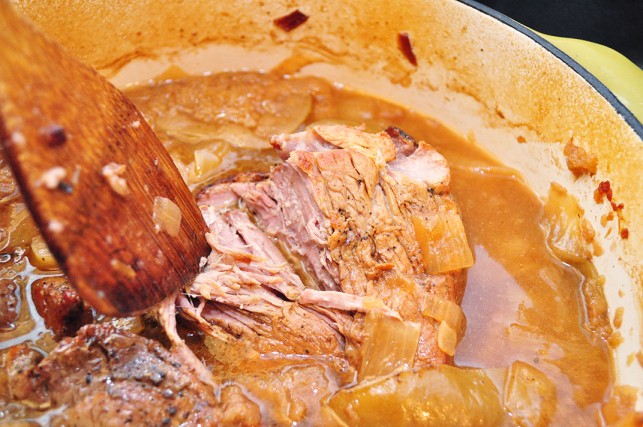 Remove the meat to a serving plate along with the onions and apples.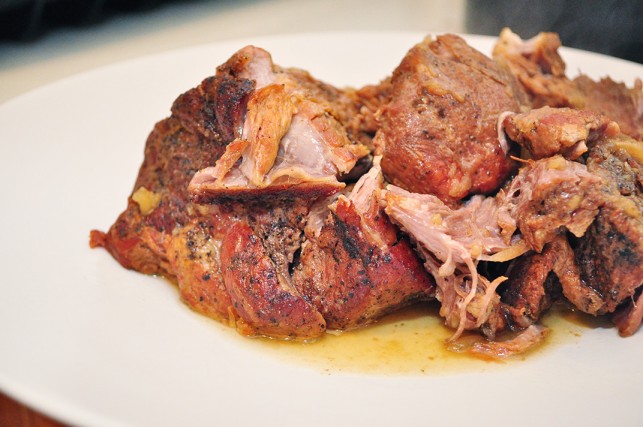 But we're not done yet!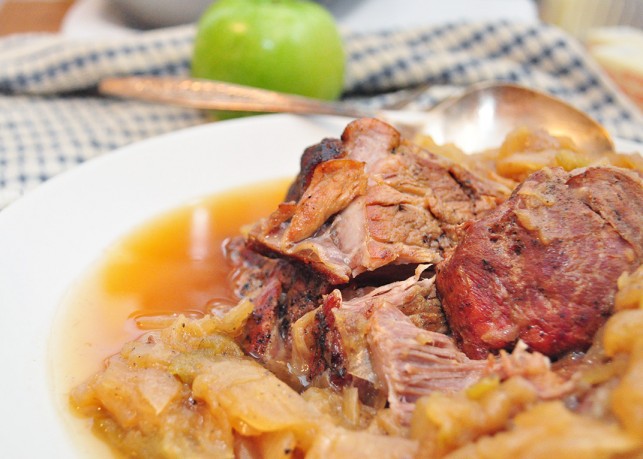 Yes, it looks and smells delicious–but we're about to take the yumminess up a notch. Actually, more like ten notches. So cover that meat with foil to keep it warm while we begin the final and imperative step.
Turn the heat on the stove to high, and violently boil the remaining liquid in the pot for about 15 minutes, until thick. Here are some before and after pictures so that you can see how quickly it reduces: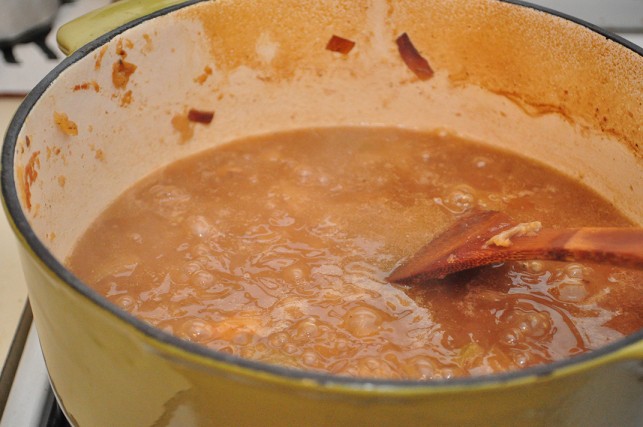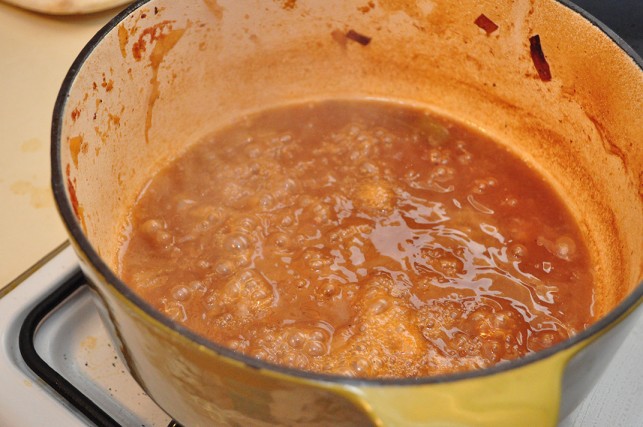 Is this really necessary? someone may ask. (They will especially ask this if the growling roars in their stomach have graduated from kittycat to mountain lion levels.)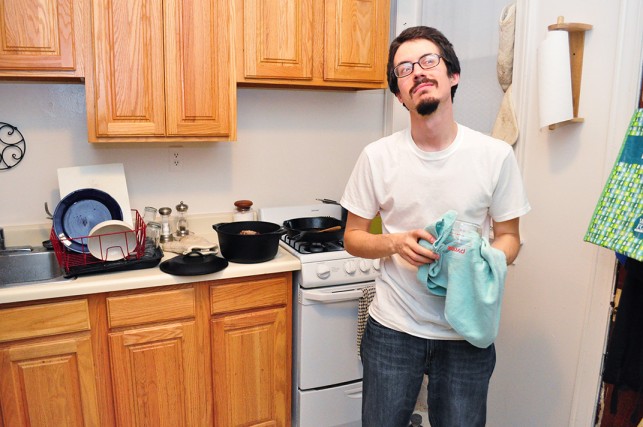 And the answer is: YES! This part is essential!
Don't even think of skipping it.
Think gravy, but even better. This makes the dish. Spoon the sauce over the pork, and serve it all over rice! Only then will you understand. See, I considered skipping the sauce step, but after one bite, I became a true believer.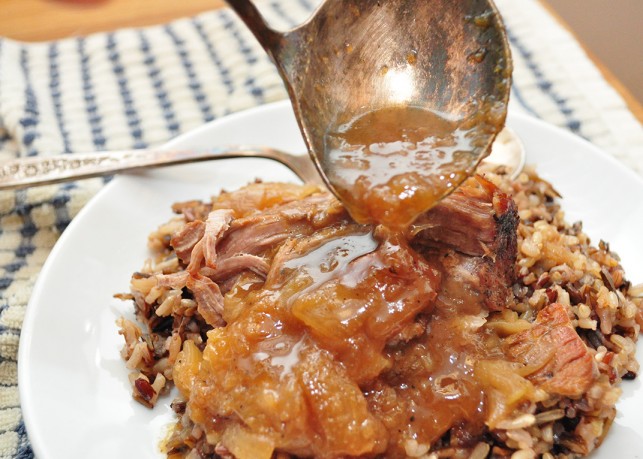 Spoon it generously, people! I want to see you swimming in sauce.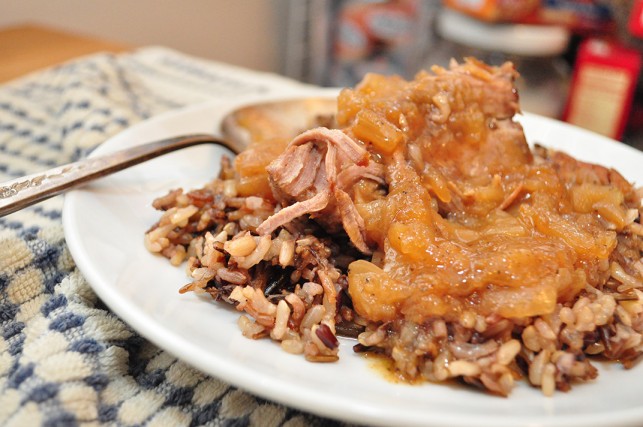 These pictures can't possibly convey what I want to convey.
It's just too brown.
But your taste buds will sing!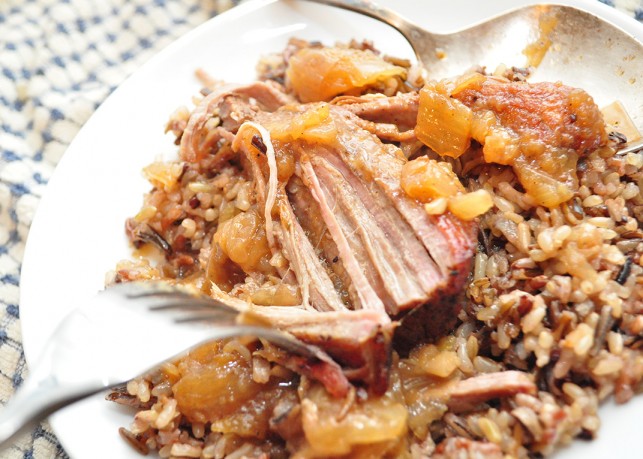 Adieu.
Click here for printer-friendly version: Pork Roast with Apples and Onions