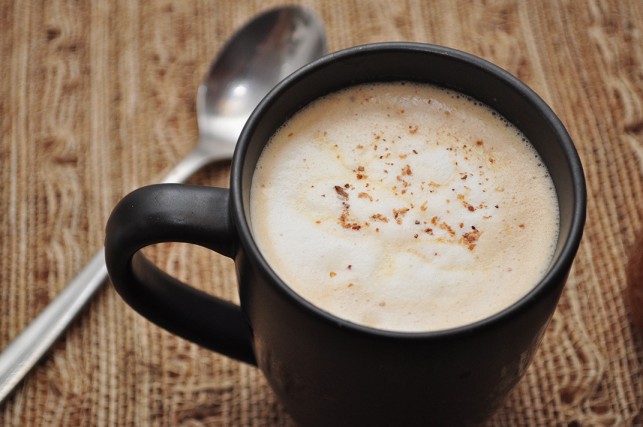 I love coffee, and I'd always wondered about making my own creamers or syrups. But I never felt quite motivated enough to spring into action until I saw Tracy's post about this pumpkin spice syrup. It looked ridiculously easy. Why not give it a whirl? I asked myself.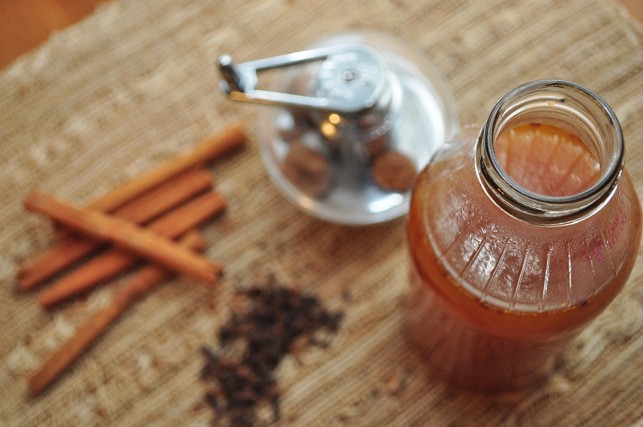 So I tossed everything in a pot and simmered it for a bit. Once the syrup had cooled down, I brewed a fresh cup of coffee. I foamed some half and half, added the syrup, and took a few pictures–then I took a sip.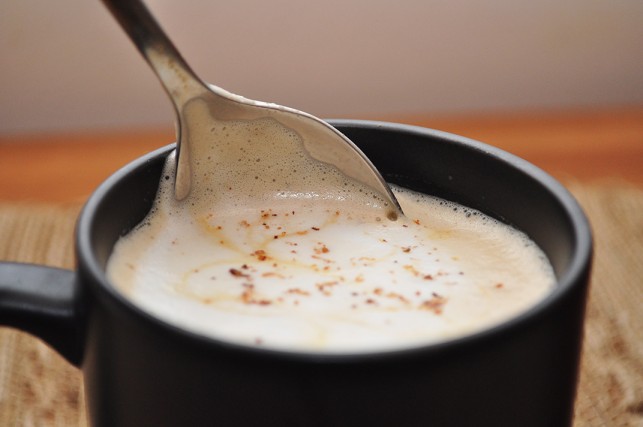 "OH!" I exlcaimed loudly.
"What's wrong!?" piped up my husaband, rushing to my side.
"Nothing's wrong! THIS IS JUST SO GOOD!"
I make a lot of things that are delicious. But this one made me shout. The amount of deliciousness just caught me offguard–I wasn't expecting it to be so incredible. But it was. Please make this. You can start readying your soul immediately.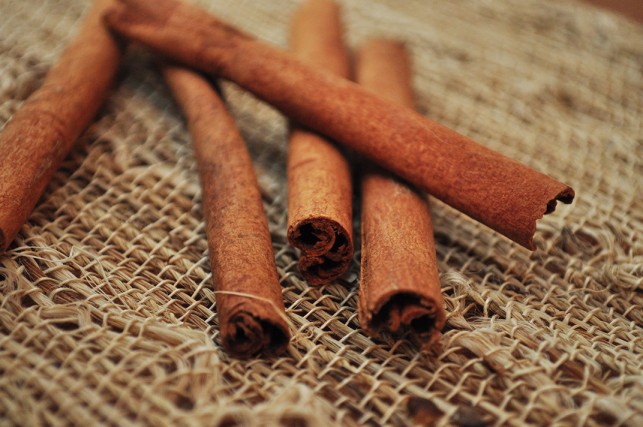 I doubled the recipe and used whole spices as much as possible to eliminate the need for straining the liquid and to get rid of any grittiness. And it's perfect.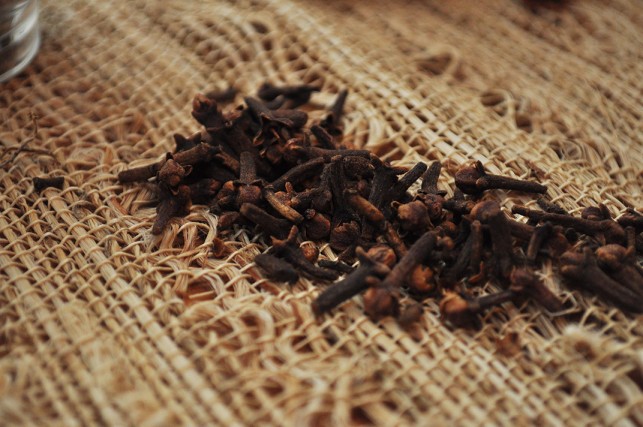 I do have to add that the deliciousness of the cup of pumpkin java is directly related to the quality of the java itself. I brewed a meanly delicious cup on that first day, and the syrup just made it sing. But in subsequent tastings of the syrup, when paired with weak and blah-hey coffee, of course the syrup did not cause me to shout. So do a good deed and make sure the coffee is strong and wonderful on its own. Then you may just be moved to shout as well.
Ingredients
2 cups water
1 1/2 cups sugar
3 TBS pumpkin puree
3 cinnamon sticks
1 tsp freshly grated nutmeg
10 whole cloves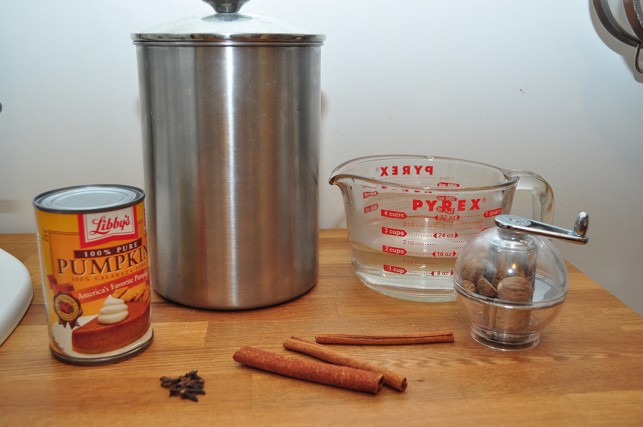 Combine all the ingredients in a small saucepan.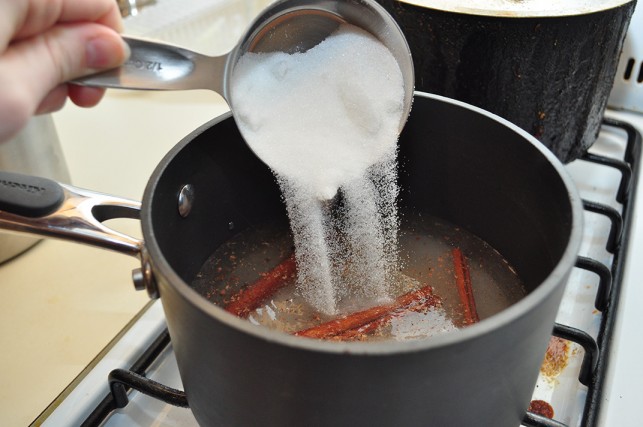 I love waterfalls of sugar.
Simmer over medium-low to low heat for 15 minutes and stir occasionally. Don't let it boil!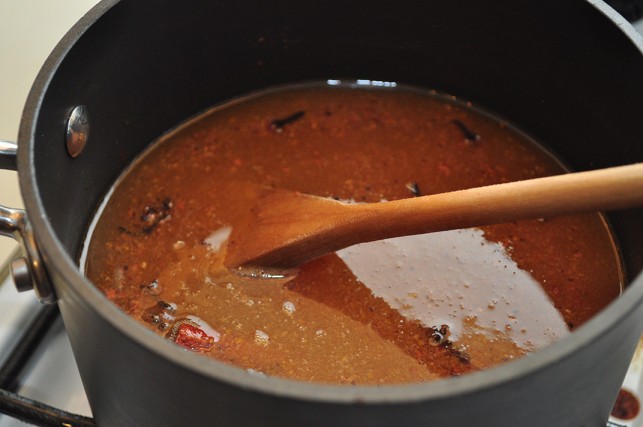 Let the syrup cool (until it's lukewarm) and discard the cinnamon sticks and whole cloves. Pour the syrup into a bottle or jar . . .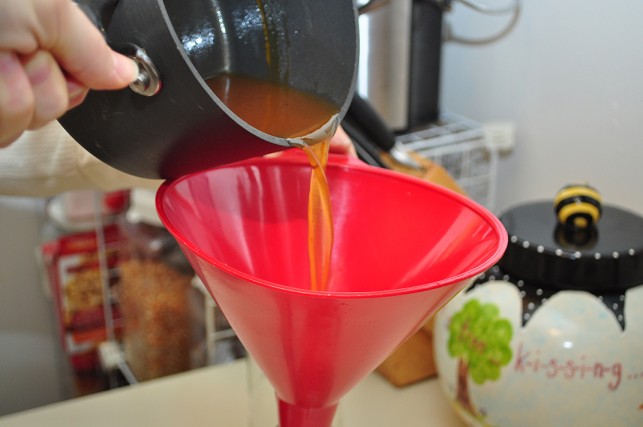 . . . and store it in the fridge for up to 1 month.
You may have to shake it up before using it, because with time the heavier elements sink to the bottom.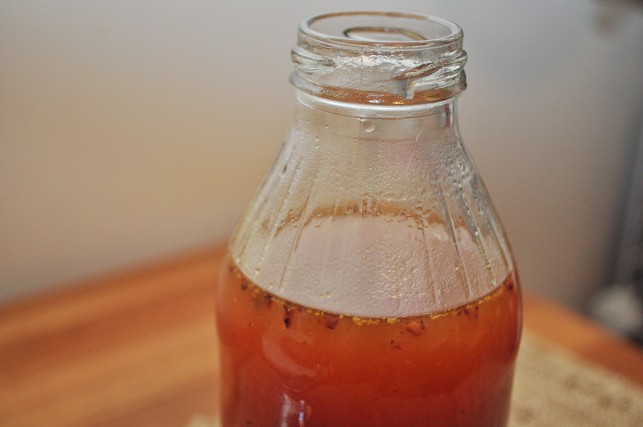 And that's it!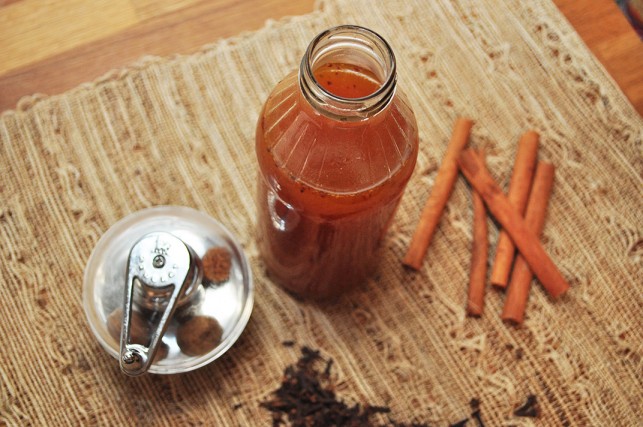 Unbelievably easy, eh?
When you're ready to make your coffee, brew up a fresh cup. You can do an American-style drip coffee or make an espresso–but make it strong. In fact, if you can make it strizzong, even better.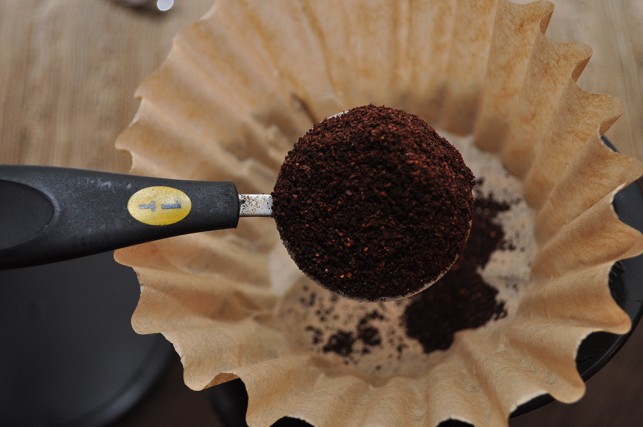 Just add your usual amount of coffee and half and half to a mug, and pour in a little syrup.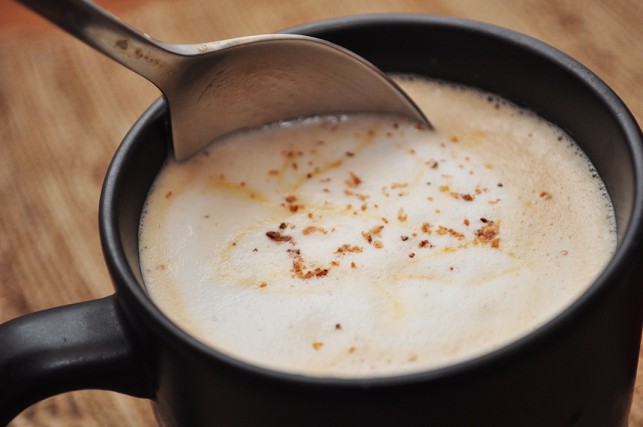 Give it a little taste–since the syrup has sugar, you probably won't need to add any more sweetness. And if you want to pile on foam or whipped cream, well, that will just be the icing on the cake. I also sprinkled on a little extra nutmeg, as you can see.
It's fabulous. And I didn't miss the pumpkin season window, did I? Well, maybe I did. But anyway. One more pumpkin recipe will be up on Thursday regardless! Over and out.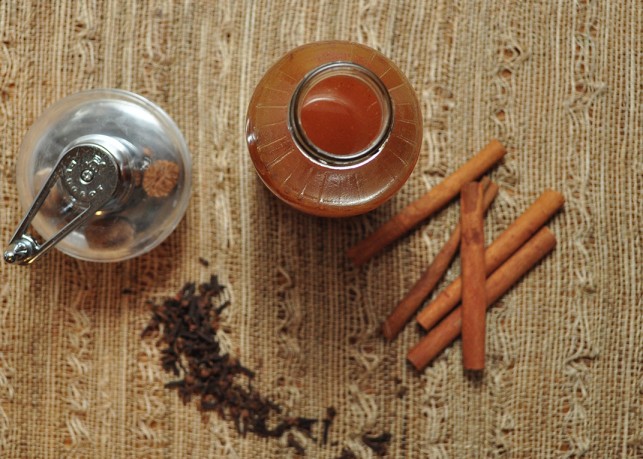 Click here for printer-friendly version: Pumpkin Spice Latte Syrup