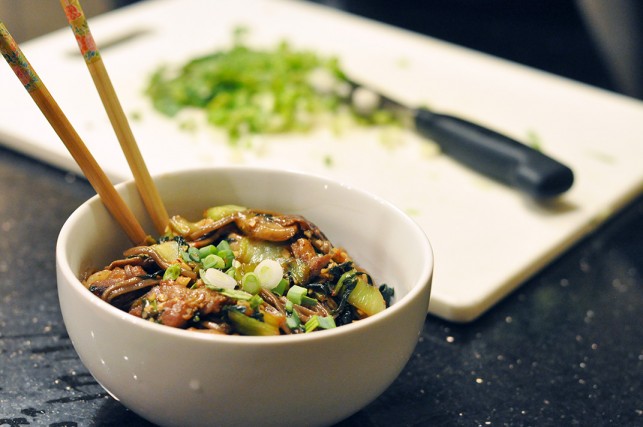 The fact that I haven't shared a recipe in so long should really highlight that: this recipe is worth sharing.
No surprise, America's Test Kitchen Quick Family Cookbook blasted us away with another awesome number. After realizing my life wouldn't be complete until I shared it with you all, I made it a second time just for the purpose of blogging.
Think: amazing pork. Amazing mushrooms. Amazing texture. Amazing and I love it.
Okay, wow. Obviously I haven't blogged about food in way too long, because I can't think of a single adjective beyond "amazing," which is such a subjective evaluation that it means nothing to anyone . . . so let's try again.
Umm . . . it's got umami! That magical salty/sweet/savory thingamaging that I barely understand but know that I love. It tastes fresh and light but also has depth. The pork is so flavorful and juicy it makes me want to become a vacuum cleaner just so that I could inhale it.
The recipe is a little more involved than some, but still nothing crazy. And it's so darn good that the very first chopstick-full of crunchy green onion and delicate noodle dripping with the sweet/savory sauce makes up for any extra knife work involved. It's good with noodles as the recipe has it, but the pork sauce itself would be great over rice too.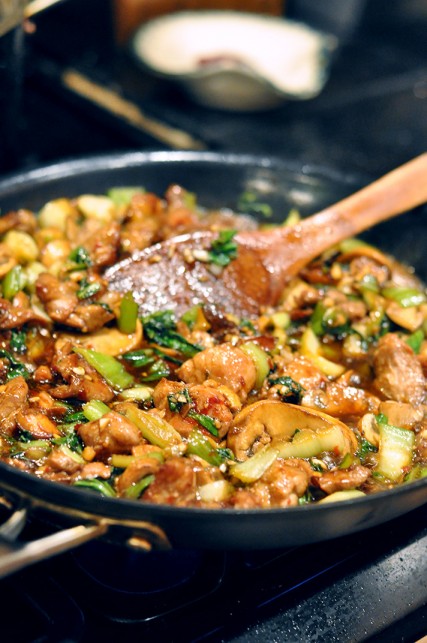 Even Alice endorses it!
Right, sweetie?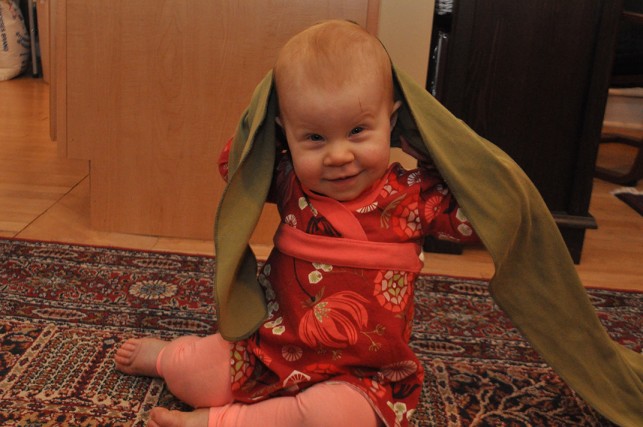 (Sorry, but without a gratuitous picture of Alice my mom is sure to speak up . . . so here you go, Mom! This one's for you.)
Ingredients
(Serves 4)
¼ cup soy sauce
3 TBS sugar
2 TBS oyster sauce
2 TBS chili garlic sauce
1 TBS sesame oil
4 tsp mirin OR sake (different—but both work)
1 lb boneless country-style pork ribs, sliced crosswise thinly
6 cloves garlic, minced
1 TBS minced ginger
4 tsp peanut oil
6 baby bok choy, sliced crosswise
8 oz white button mushrooms, sliced
4-8 oz shiitake mushrooms, sliced
8 oz dried soba noodles
1 bunch scallions, sliced on the bias
1. Whisk together first 6 ingredients.
2. Combine 3 TBS of the mixture with the sliced pork and marinate in the fridge for 5 minutes. Reserve the rest of the sauce.
3. Combine garlic, ginger and 1 tsp of the oil in a small bowl.
4. Start to boil some water in a large pot for the noodles.
By the way, I'd never cooked with soba noodles before. So in case this is helpful to anyone, here's what my package of noodles looked like: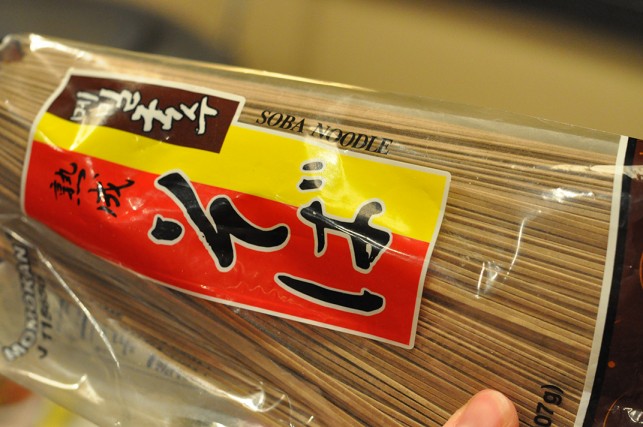 5. In a large 12'' nonstick skillet, heat 1 tsp oil. When shimmering, add half the pork in one layer. Let it sit for 1 minute, then stir for 2 more minutes until browned. Remove, and repeat with the remaining pork.
6.  Heat the last teaspoon of oil in the now-empty skillet. When hot, add the mushrooms and bok choy; cook 5-7 minutes, until browned.
7. Clear a space in the center of the skillet and add the garlic/ginger/oil             mixture. Smash it around with your spatula and cook for about 30 seconds, until fragrant.
8. Add the pork and sauce to the skillet; stir it all around and simmer for             about 1 minute, until the sauce has thickened. Cover and set aside.
9.  When the pot of water is boiling, add the noodles and cook for a couple minutes, stirring often. Reserve ½ cup of the cooking water, and when the noodles are tender, drain them immediately.
10. Put the noodles back in the pot and add the pork, tossing them together. Add the ½ cup cooking water if you need to loosen up the mixture. Sprinkle on the green onions and serve!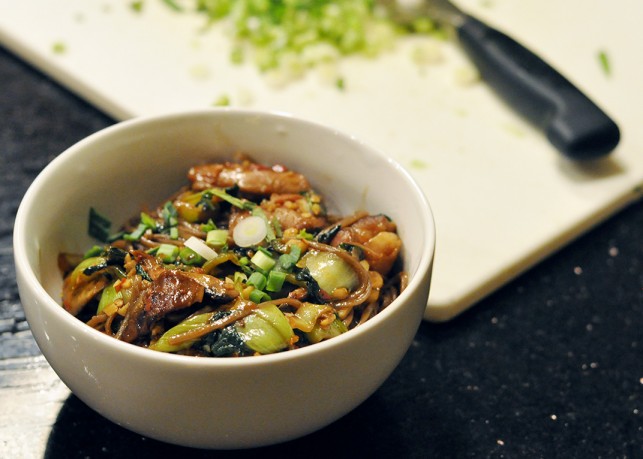 Click here for printer-friendly version: Asian Fusion Soba Noodles