I received a beautifully wrapped gift a few Christmases ago from someone who shall not be named. (Don't worry–this is an acquaintance, and there is NO WAY he or she reads my blog. Um, I hope.) It had some heft to it, and based on the rectangular shape I figured maybe it was an awesome board game. Or a carved tray. Or something cool.
Then I opened it.
And it was . . .
. . . yes. A larger-than-life bar of chocolate.
"But how great is that!" you may be thinking.
Let me clarify–these weren't individually sized pieces of chocolate, ideal for consumption. This was one bar. Many, many pounds of chocolate, forged together into an unbreakable, un-bite-able plank. Entirely impractical for the following reasons:
1) You need special equipment to cut this thing. No ordinary knife was going to do the job.
2) How do you store it? Er . . . with a whole roll of plastic wrap?
3) Breaking off pieces would result in mess, mess, mess, with tiny chocolate shavings festooning the whole area.
4) It weighs a ton. And doesn't fit easily in a cupboard. Or in any Ziploc bag I've ever seen.
5) Who eats that much chocolate???
Anyway, it was going to take way too much work to deal with this thing. Way too much trouble–and yet I couldn't throw the thing away, because then I'd have guilt all over my face next time I saw this person. All I could think of was how to get rid of this thing as quickly as possible. Our next social event was a little Christmas party for our Bible study, at the home of Joe and Kathy. Joe and Kathy also happen to have 5 kids. I quickly hatched a plan to foist this bar of chocolate on them. Either directly, or by hiding it in the pile of presents under their tree.
I showed it to our small group and David, our Bible study leader, examined the monster.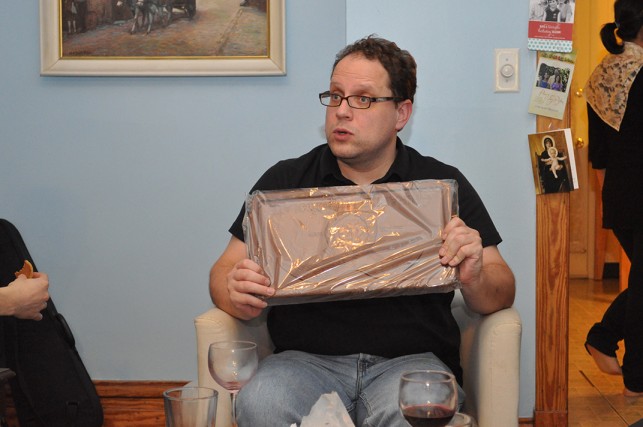 It's bigger than his head!
Way bigger.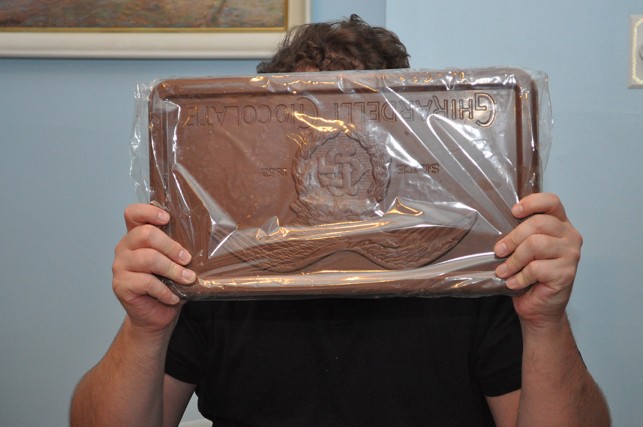 We soon determined that someone needed to try to take a bite. That special someone was going to be Carrie.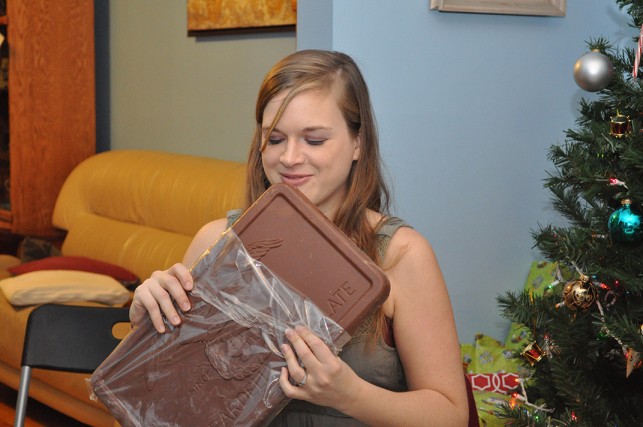 I don't remember if she was willing, or if my aggressive side came out and forced her hand.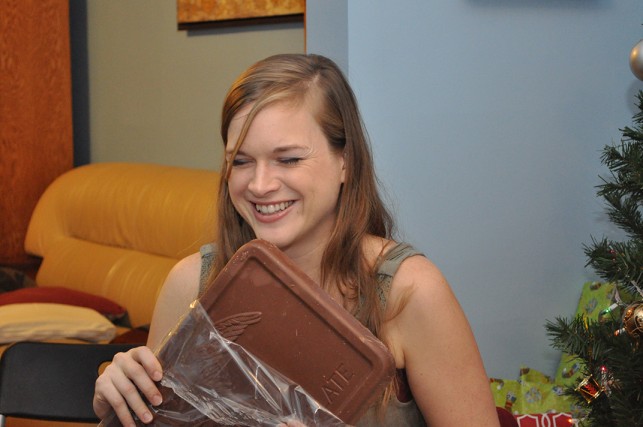 Go Carrie go!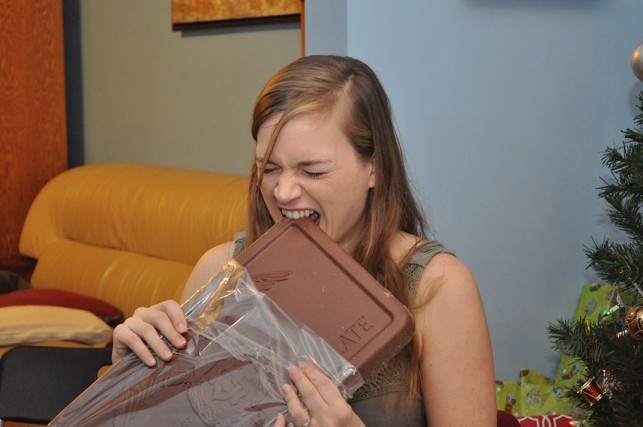 That girl is fearless.
And she has nice teeth.
Why can't I have nice teeth like that?
Anyway, if she keeps gnawing on that chocolate she ain't gonna have nice teeth for long.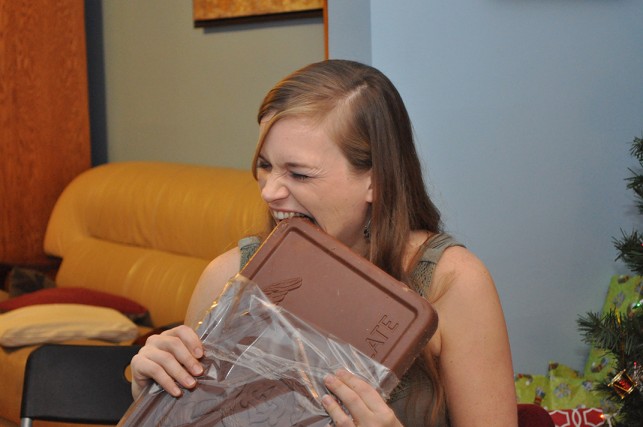 So the conclusion of this little piece of Christmas history is this: unless you know that the giftee is planning a fondue party for 50 the following day, please think twice before purchasing a bar of chocolate of this magnitude for anyone.