This post has not been endorsed.
I just wanted to share.
I love my baby . . . but she can make shopping a little complicated:
She gets squirmy in the baby carrier.
She has figured out how to climb out of the grocery store and Target carts despite the child restraint.
Here she is laughing at the cart's inability to contain her exuberant motion.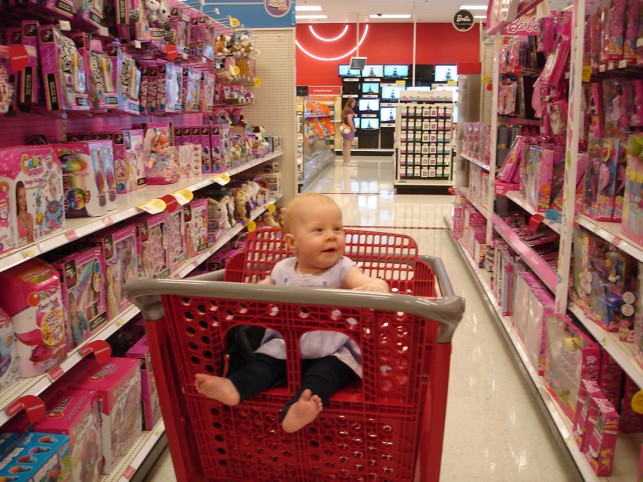 Child restraint schmild restraint!
She is a baby on the move.
So! I discovered ThredUP through a friend who posted a link via facebook. ThreduUP is basically an online consignment store, with brand name clothes for thrift-ish prices.
Having a squirmy little one increases the wonder of online shopping. And since Alice is just a baby and doesn't need to try things on, I can just hop online and look around for things for her when she needs 'em–thrift things like a pair of adorable 18 month size jeans for $3.79. Or an adorable blue and white striped dress that is one of my absolute favorites.
I'll hit up Salvation Army when I can, but on the days that my squirmy wonderbaby just doesn't want to go shopping, I can shop without going. Here's the link where you guys can check it out.
And let me add–they don't just have baby clothes! They have women's clothes which you can sort by brand, color, price level–I love it! (And I love the Banana Republic black pencil skirt that I found–that was a well-spent $14 if I may say so.)
Ok, and let me add one more ringing endorsement: you can order what they call a "clean-out bag," which they will deliver to your door. You fill this bag with your consignment-worthy clothes, put their pre-paid UPS or USPS label on it, send it off, and they will go through and pay you for the clothes they accept (you can even get the rest returned to you, though for a fee). I stuffed my first bag full and just got my first payout–$45.10.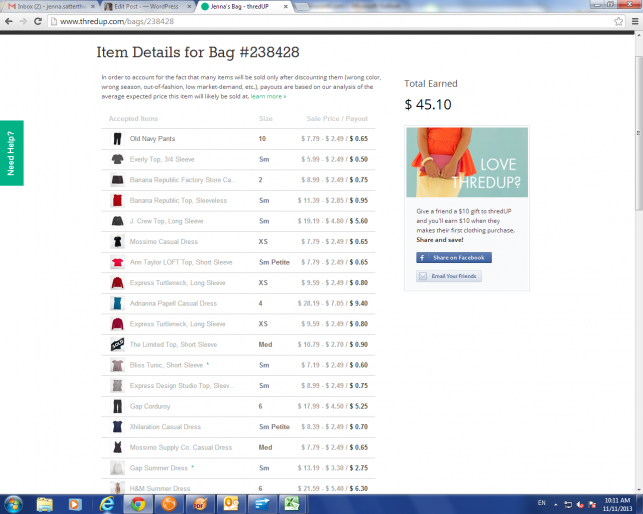 Whoopdeedoodledoo.
As you may have noticed in my screen print, you can also earn referral money if you love the site and want to share with friends–just like I'm doing!
Double whoopdeedoodledoo.
Anyway, if you're a thrift-loving person and/or have a small posse that can limit your shopping ability, check 'er out.