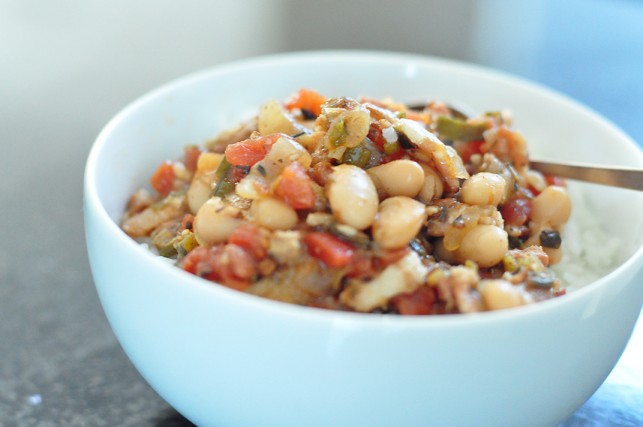 Inspired by Nigella's recipe from her cookbook "Nigella Express," this dish was an absolute hit. I anticipated liking it, but not loving it. And after realizing how much I loved it (and blogging about how I hadn't blogged about it) I decided to rectify my lazy blogging habits and hop to it. For the Good. For you guys.
Picture this: tender pieces of chicken. A flavorful tomato broth, into which the caramelized onion has practically melted. Bacon. Oh, and it all starts with garlic infused oil. Need I say more?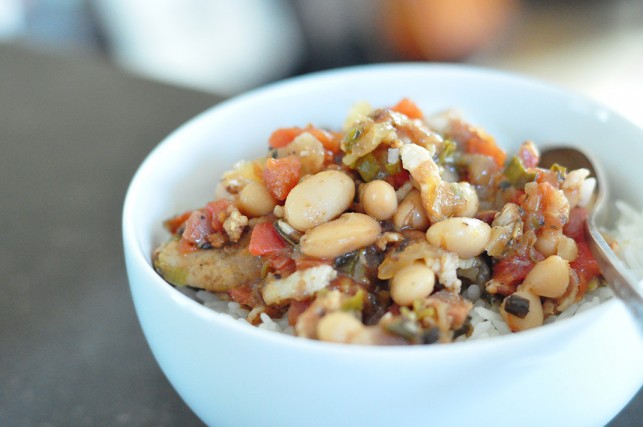 I made it on a peaceful Sunday evening after Alice was in bed. I chopped, I smelled, I tasted, I fried. Recently I've realized (again?) that I actually do love cooking. Not just the food at the end, but the process. To enjoy it though, I need to be able to take my time. If I feel the clock ticking, enjoyment flees and it becomes just another household task. So just an encouragement to any of you who are experiencing cooking as a burden (which I do from time to time): one of these beautiful summer evenings, take your time. Clear your schedule. Leave aside efficiency. Pour yourself a glass of wine. Open the windows, put on some good music, and abandon yourself to the pleasure that can be cooking.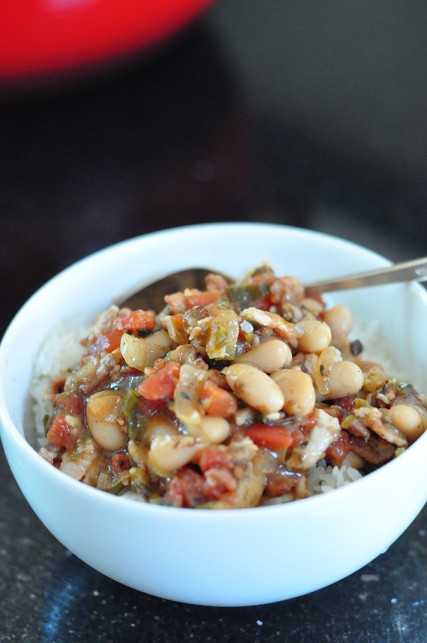 Ingredients
(Serves 4)
1 ½ TBS olive oil
5 cloves garlic
1 medium onion, diced
½ lb bacon, finely minced
6 scallions, finely diced
2 tsp dried thyme or rosemary
Salt and pepper, to taste
1 to 1 ½ lbs boneless, skinless chicken thighs (3-4), cut into bite-sized cubes
½ tsp celery salt
¾ cup white wine
1-14 oz can petite diced tomatoes
2 bay leaves
½ tsp sugar
1-14 oz can cannellini beans, drained and rinsed
Cooked rice, to serve
1. Put the garlic through a garlic press and soak in the olive oil for 10 or so minutes, to infuse the oil. Strain the oil into a large pot or Dutch oven and heat over medium-high, reserving the garlic.
2. When the oil is hot, add the onion. Cook over medium heat for about 15  minutes, until caramelized, stirring occasionally and adding salt and pepper as it cooks. Take your time here—you're adding worlds of flavor. Use this time to prep your remaining ingredients.
3. Add the oily garlic, minced bacon, scallions and thyme or rosemary to the pot. Stir and cook over medium high heat until the bacon begins to brown, about 10 minutes.
4. Douse the chicken pieces with celery salt on the cutting board where you chopped them, moving the pieces around with your hands to coat them evenly. Add them to the pot and cook for 5-7 minutes, stirring occasionally.
5. Pour in the wine and scrape any brown bits off the bottom of the pan.
6. When the wine gets bubbly, add the can of tomatoes, bay leaves and sugar. Cover the pot and simmer over low heat for 20 minutes.
7. Stir in the cannellini beans and cook for a few minutes, until heated through. Taste for seasoning and serve over rice.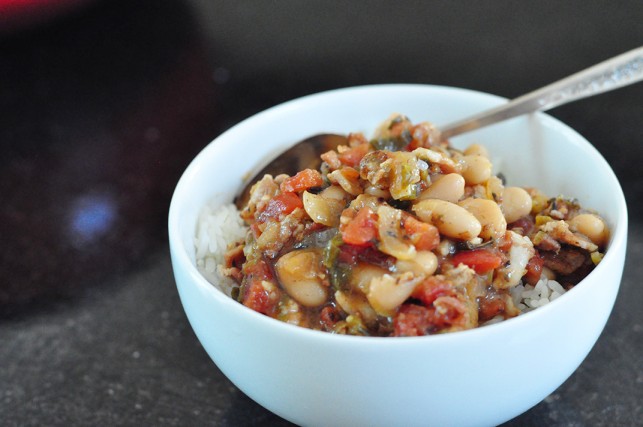 Click here for printer-friendly version: Pollo alla Cacciatora