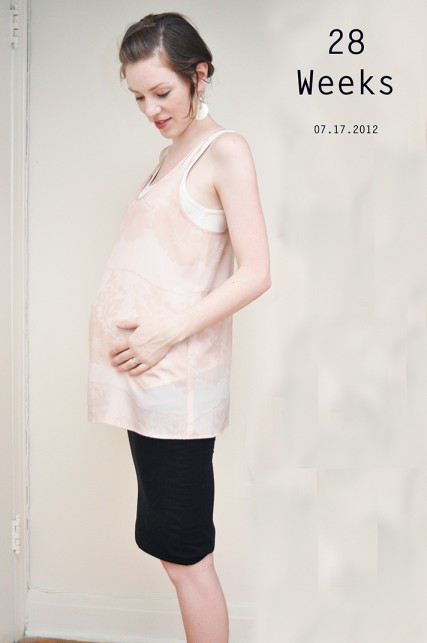 How far along: 28 weeks, completed 7/17/12.
Weight gain: My next midwife appointment is on Monday, so I'll know then!
But I did get an ultrasound on Monday so that the technician could get the shots of Alice they couldn't get during the first attempt (of her spine and brain, especially), and she weighs 2 pounds now.
The technician got the images, said everything looks great, and confirmed that she is indeed a girl. Side note: I was definitely afraid she might turn out to be a boy, and that I would have to return all the cute girl stuff that people had just given me at the shower. Also, as my husband and I walked out of the Thorndale El stop on Sunday, a potentially crazy woman sitting on the sidewalk shouted "It'saboyit'saboyit'saboyit'saboy!" as we went past.
I'm so glad she wasn't truly clairvoyant.
The pictures they gave us from ultrasound #2 don't scream 'cute' in particular . . . unless you know what you're looking at (the images are confusing at times) and happen to be her mama (me). Since she's bigger, the shots are more of isolated body parts. And with the fuzzy black and white images (and her hand in front of her mouth), her face looks a little . . . interesting. BUT while we were watching her move around in there on the screen, she was kind of snuggled against her own arms, and the pinky on one of her hands was daintily lifted in the air. Or should I say in the amniotic fluid? Anyway, it was so cute! It looks like she's ready to drink tea with the Queen!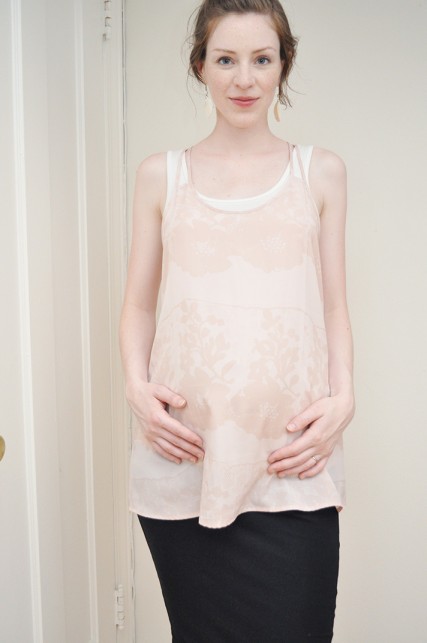 I also had some blood drawn while I was there so that they can do some standard tests for gestational diabetes, vitamin D leves, iron levels (and I already know I have anemic tendencies) and the like. If anything funky comes up I should know on Monday at my appointment.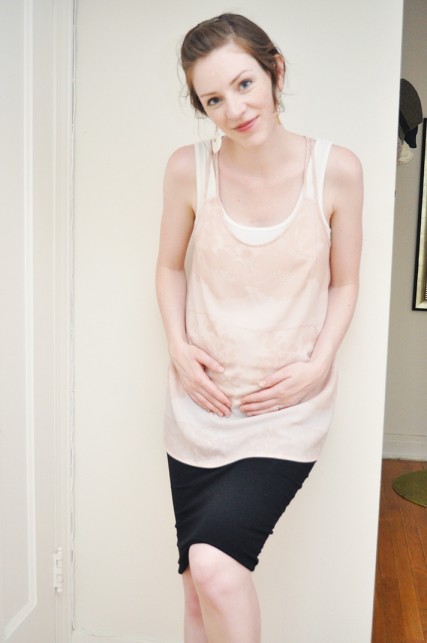 Clothes: So my husband was in Madison doing research for his dissertation most of last week. The three things I love doing the most when my husband is out of town are as follows:
–Shopping–especially thrift shopping–because I don't have to hurry home. I can take my sweet time and try on half a million things without even a glance at my watch to tell me I've been going for two hours straight.
–Purging my closet, because it's very time-consuming and requires trying everything on and making a big mess, and once I start I can also go for hours.
–Watching chick flicks–particularly the ridiculous ones that I'm afraid my husband would laugh me off the couch for.
All this to say, chick flicks were watched. Purging was done. And shopping happened! I double dipped and went thrift shopping both to Salvation Army with my friend Carrie, and to Plato's Closet on my own. I found so much non-maternity pregnancy wear! (which was my goal–stuff that works for Belly Days that I also won't have to cast aside this fall) Flowy tops, leggings, dresses, more flowy tops . . . and a few tiny and adorable things for Alice, and my nephew James and his soon-to-be-born little brother Liam while I was at it.
Purchases: As mentioned above, clothes! Oh, and my baby shower was of course on Saturday, so many things were purchased for me! Recap coming soon to a blog near you.
Body: The back pain I was experiencing hasn't happened all week–hallelujah! I don't know if there's much to say here other than: I continue to get hot and pathetic way too easily.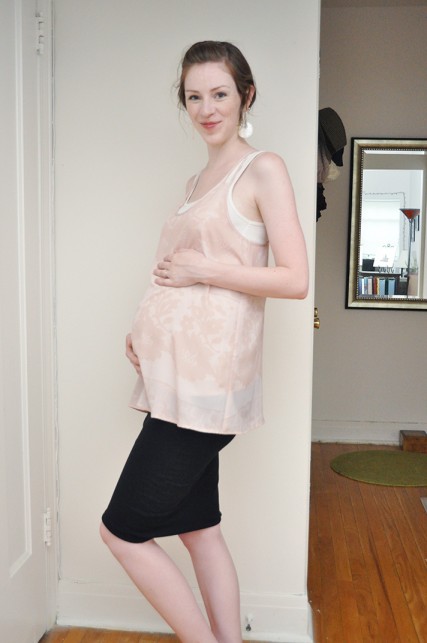 I also get tired sometimes . . . in a big way. Especially after a lot of human interaction (like talking to my Mom all Friday afternoon, or the baby shower on Saturday), I get completely worn out and my brain becomes oatmeal. Cold oatmeal that's been left out on the counter all day. In fact, I was ready to go to sleep at about 7pm on Saturday. I managed to make it until 11pm, but I had drooping eyelid syndrome the entire time.
Sleep: Great! A little restless once, but after I got up and did some squats, I was able to sleep like a baby.
Oh yeah–and one night was particularly not fun because Alice kept waking me up with her acrobatics. She does love to bust her big moves at night, but I can usually sleep through them. Not this time, though.
Best moment(s) of the week: My baby shower was really amazing! (thank you soooo much, Carrie and Beth!)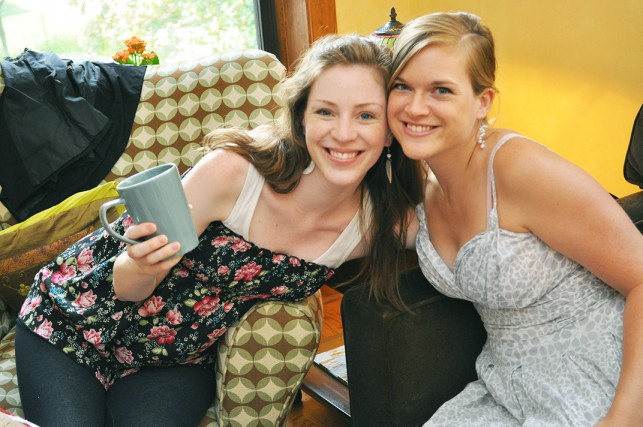 I was a little nervous about being the center of attention for so long since I'm a semi-introvert, but once I got there and started soaking up the love from all these ladies (and eating the food–mmmmm!), all was well, and I had a blast! I had a little bit of a sense of unreality during some of it, kind of like I did on my wedding day, just because it's one of those mile markers in a woman's life and it didn't seem quite believable that it was happening to me. But there were some really beautiful moments. In particular, after the women prayed for Alice and me, we all sang "Take My Life and Let it Be" but with the words changed so that it was about Alice ("Take her life and let it be consecrated, Lord, to Thee . . . take her moments and her days, let them flow in ceaseless praise . . . etc.). To hear all those sweet female voices lifted up to God singing this beautiful prayer for my daughter was just wonderful.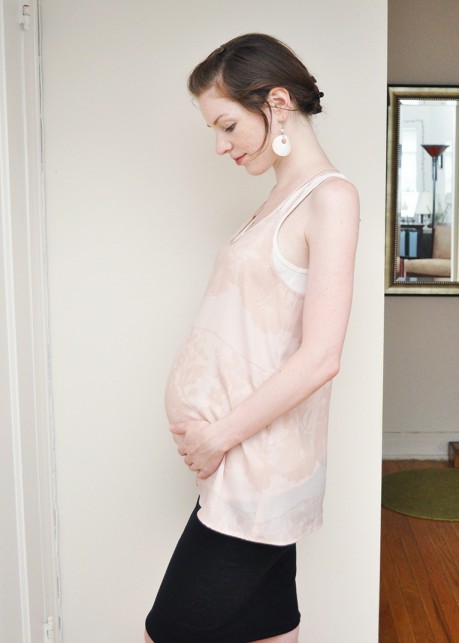 Movement: As you know, my mom was with us here in Chicago for the weekend, and I loved having her touch my belly constantly to feel Alice move. She was the most enthusiastic, determined baby-movement-feeler ever. Whenever I made a face that might mean "the baby is moving," she would rush over to see what was going on–and she never seemed to tire of it. She must have spent cumulatively an hour and a half with a hand of my belly over the course of two days. She rubbed my belly, poked around to see what bits of Alice were where, and interacted with my baby girl as much as it's possible being that the Wee Lass is still in-utero. And Alice really delivered in this respect all day Saturday, with kicks and punches and rotations galore! I really, really enjoyed this. Like, really.
Food cravings/aversions: Nothing–but I've noticed I feel full faster than usual. I think now that Alice is 2 lbs, my stomach may not have as much space as before . . .
And on the subject of food, I said something silly the other week about you guys feeling free to send me cookies and how I wouldn't turn them away if they happened to show up, not thinking anyone would take me seriously. Well, my sweet friend Chelsea called my bluff, and Friday a delivery showed up at my office of Cheryl's cookies, laced with buttercream frosting. Aaaaaah. Chelsea, what an awesome surprise. Thank you from both Alice and me!! (and from my husband–because I promise I'm sharing . . . some of 'em)
Symptoms: Occasionally hot and tired–and it's still weird not to be able to lift my own torso upright when I'm lying down (I can't seem to get used to this state of affairs). I either have to request help or execute an awkward roll onto my side. It's also hard to lift my entire body to standing from a deep squat, and after watching me struggle and grunt the other evening, my brother-in-law took it upon himself to extend the strong hand of mercy and lift me up. Thanks, John. Your act of kindness will not soon be forgotten.
Braxton-Hicks contractions are also happening all the time. It's wild to feel your belly turn hard as a rock within seconds. I hope all this practice means less pain later? Probably not . . .
Emotions: Feeling pretty stable! Is it just me, or does it seem like it's one week off, one week on, and so forth?
Hopes and dreams: After seeing images of Alice's snuggly little face during the ultrasound, I've started thinking more about the moment we'll actually get to see her face in person, wailing and red (hopefully), covered in slime–but incalculably precious and beautiful.
What I miss: Physical stamina! We've started packing some boxes in preparation for our move in about a month. And I'm so glad we've started early! Because I get worn to the bone after packing about 2 boxes. The bending and twisting required even to put stuff into a cardboard box (not even to lift the box) does a number on me, man.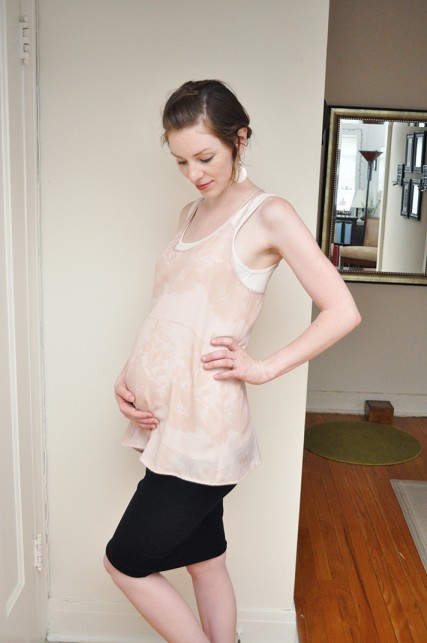 What I'm looking forward to: Another baby shower! It turns out that some cousins and relatives are converging in Wisconsin the weekend after next. Somebody said, "why don't we throw Jenna a family baby shower while we're all together? Can she come?" Well, I can! So baby shower #2 it is. And I'm thrilled to be able to spend time with my extended family and their crazy, generous, creative, fun-loving, type-A, BIG personalities. I love them all.
Our next Bradley class is tomorrow evening, and even though it falls on a not-so-convenient day (with my parents both in town, a women's ministry gathering that I'm leading Saturday morning and our CD release party Saturday evening), I'm still looking forward to spending that time with my husband, learning about what awaits us.
Husband update: I'm so glad he came with me to the ultrasound so that we could both rejoice together over that dainty, lifted pinky finger. The next time we see her, she'll be in our arms!