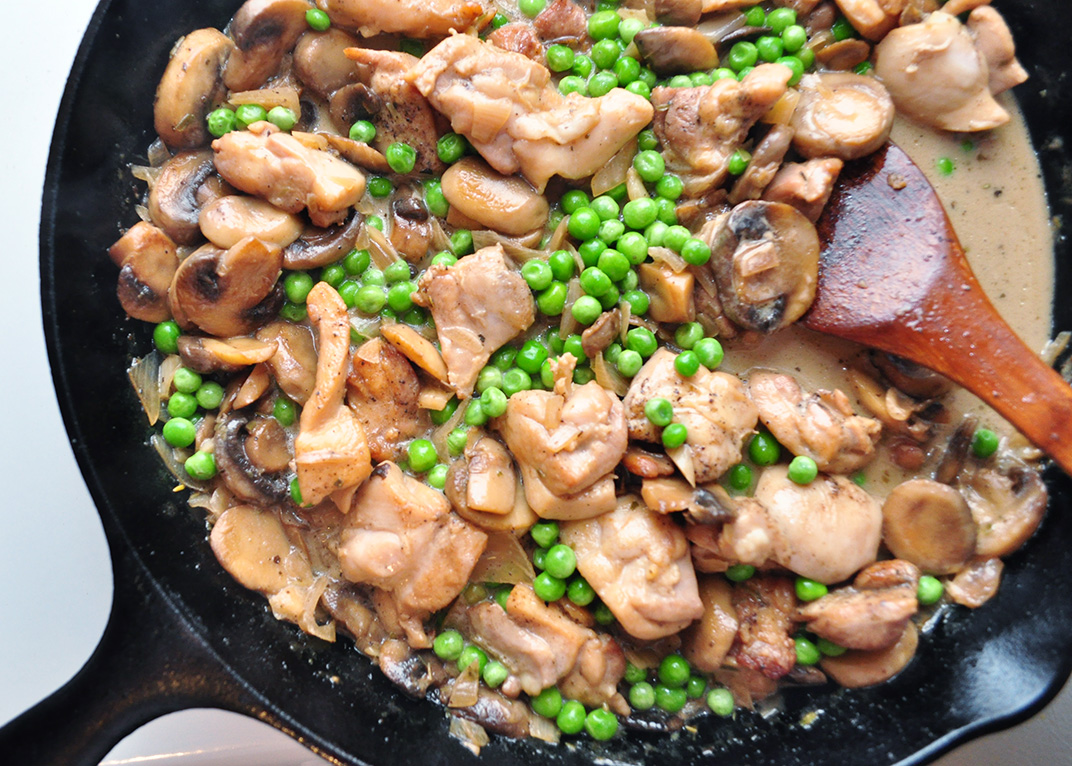 Happy day before Thanksgiving!
And while the nation ponders the all-consuming 'turkey' issue (fried? roasted? covered? uncovered? brined?), I have something completely different on my mind. Chicken!
This dish (inspired by this blog post–thanks Amy!) incorporates many of my favorite things: mushrooms. Cream. Sweet wines. One-skillet meals.
Would you believe me if I told you that I've made it at least 4 times in the past 6 or so weeks? And that I made a sinfully delicious variation that we dubbed 'Bacon Marsala'? And lemme tell you: for someone who has the food-blogger-like tendency of never making something twice (which, for the record, is a habit I had long before becoming a quasi-food-blogger-person), this is extraordinary.
It's just so easy to make, uses such basic ingredients–and it's so, so, so good.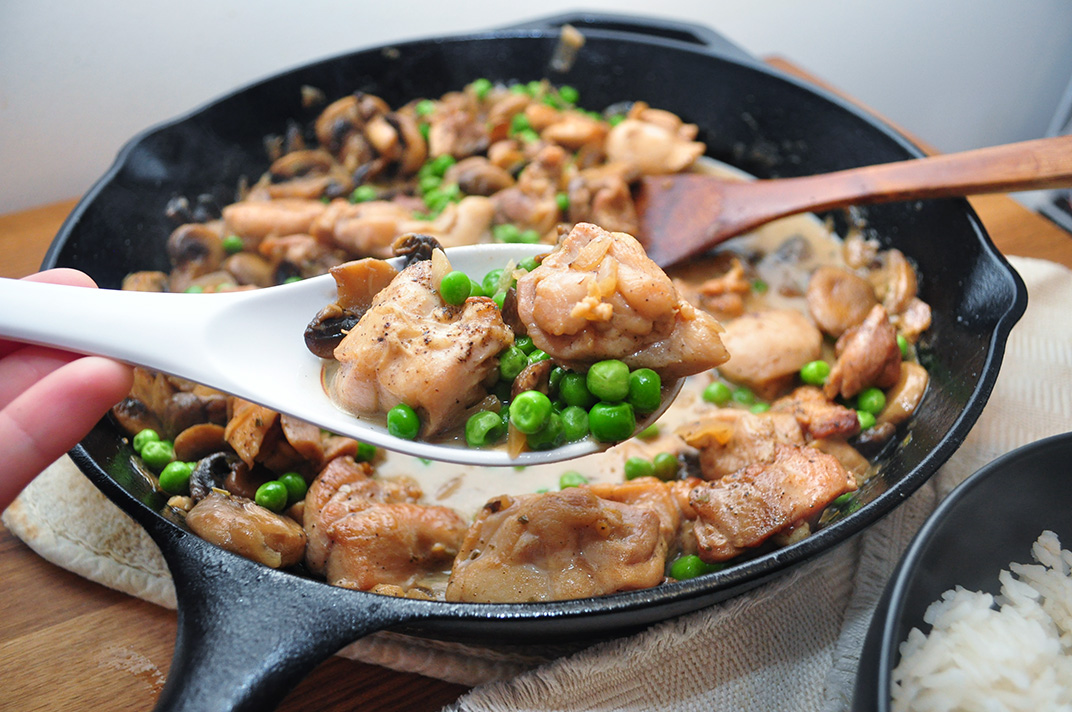 Okay, less raving and more showing!
Ingredients
 (Serves 4)
2 TBS olive oil
1 TBS butter
1 ½ lbs boneless, skinless chicken thighs
Salt and freshly ground pepper, to taste
1 lb sliced cremini mushrooms
3 shallots or 1 red onion
4 cloves garlic
1 ¼ cups Marsala wine
1 cup chicken stock
½ cup heavy cream
1 tsp dried thyme
1 cup frozen peas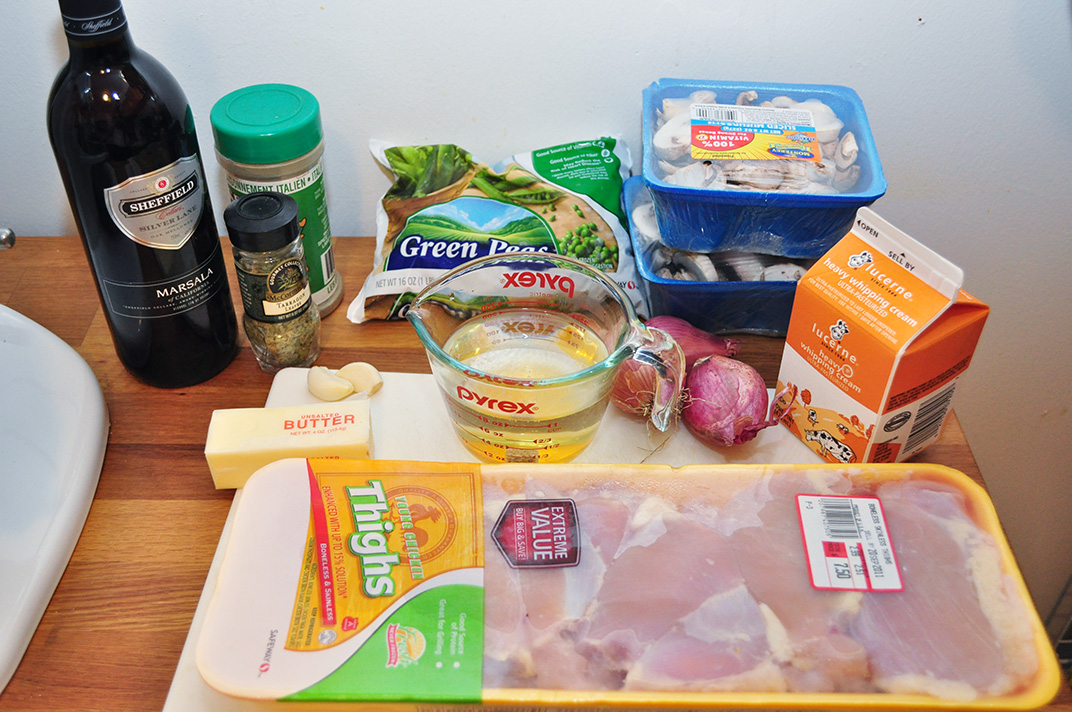 Chop the chicken thighs into large chunks, trimming and discarding the fat.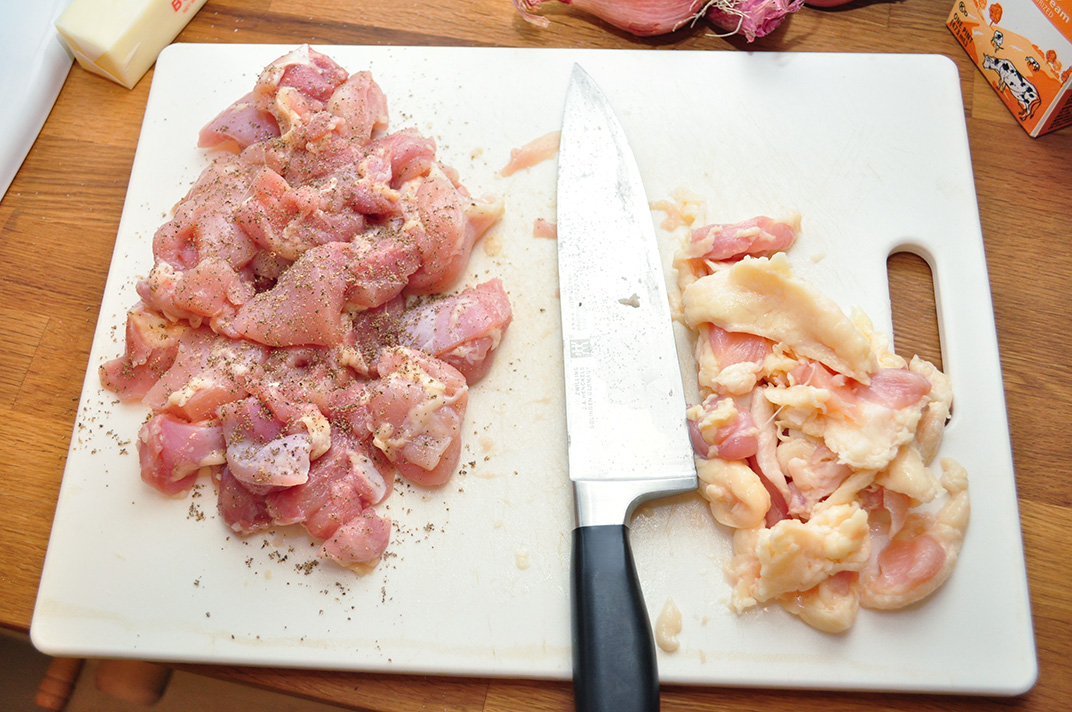 Season and toss the chicken with a generous amount of salt and pepper.
In a large skillet, heat 1 TBS of oil and the TBS of butter over high heat.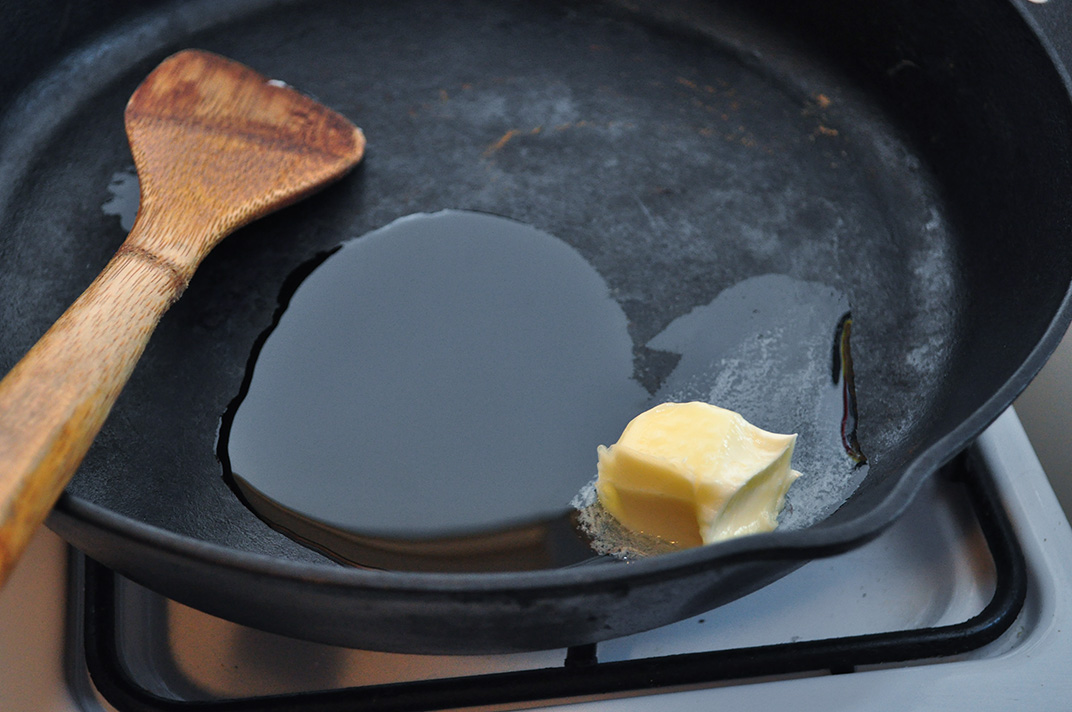 When hot, add the chicken, and cook for 6-7 minutes, stirring occasionally, until browned (but not cooked through).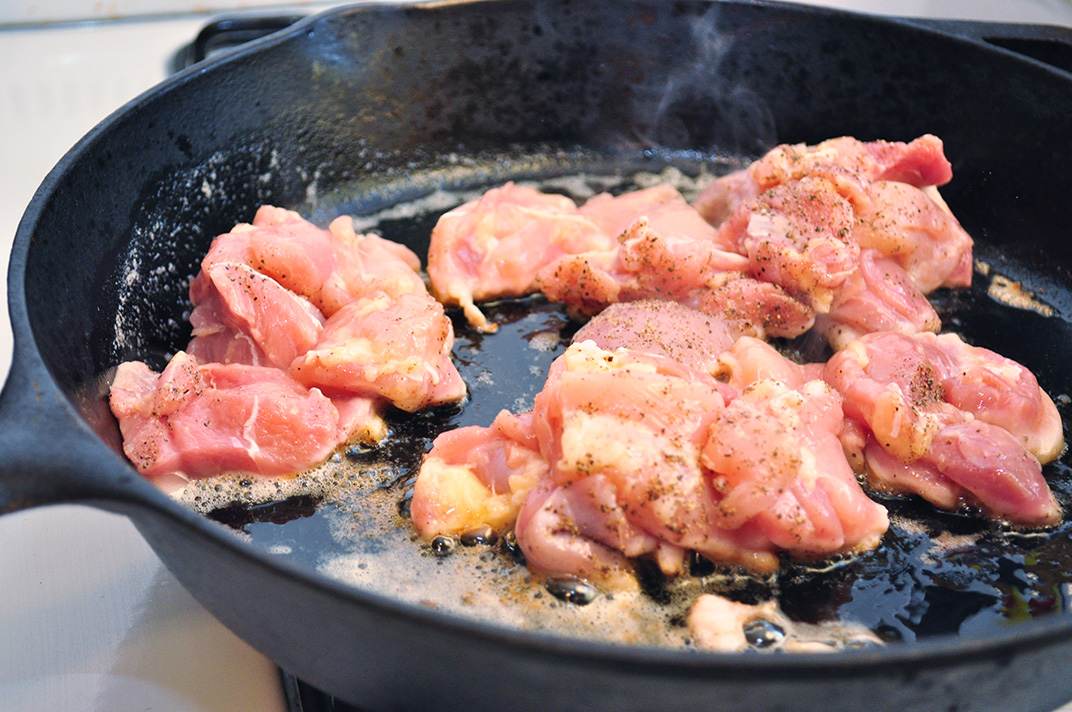 Remove the chicken to a plate.
I have to add here that when I'm in a hurry, nothing gets removed from the skillet. Everything goes into the pan at once, and it still turns out great.
Heat the remaining tablespoon of oil in the same skillet over medium high heat, and add the mushrooms.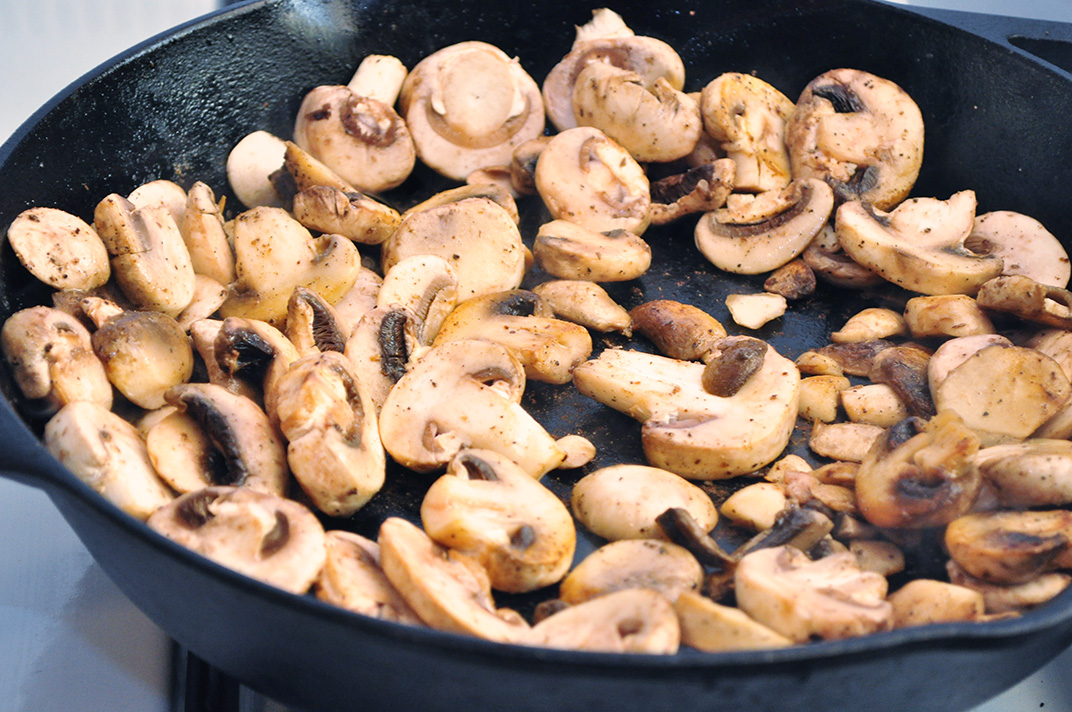 Cook the mushrooms until browned, about 5-6 minutes, stirring occasionally.
Mince the shallots and garlic as the mushrooms cook. You can use a red onion instead, if you have one handy (I'm very partial to this option). Or a white onion. Or a yellow onion. Whatevuh.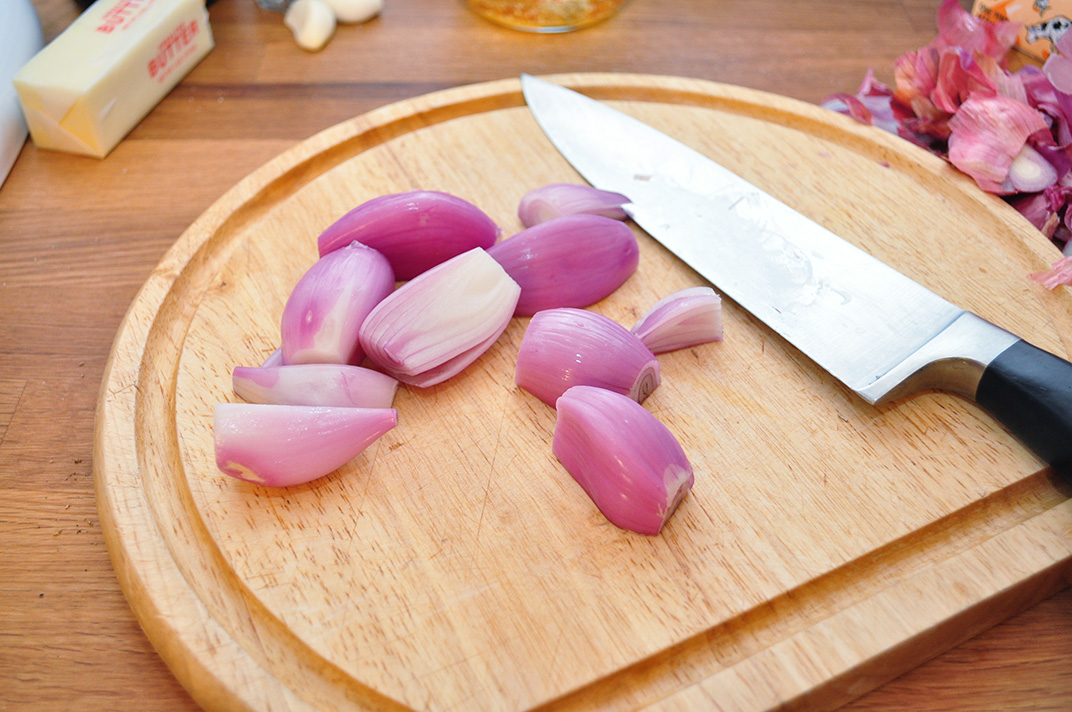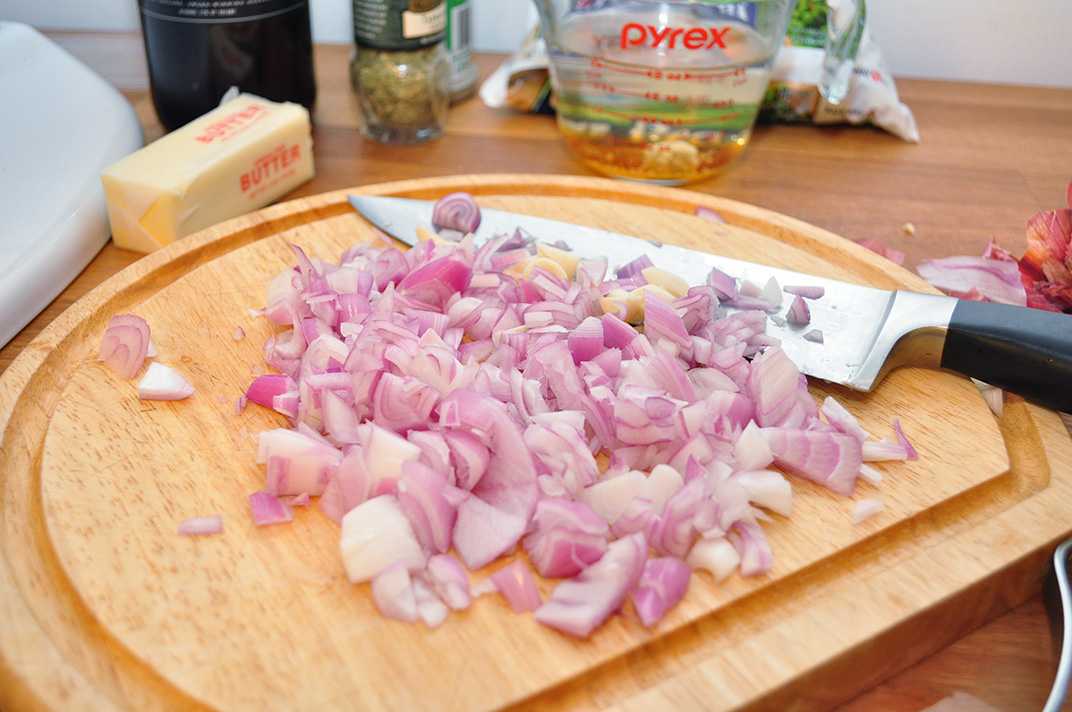 Add the shallots and garlic to the mushrooms, and season with salt and pepper.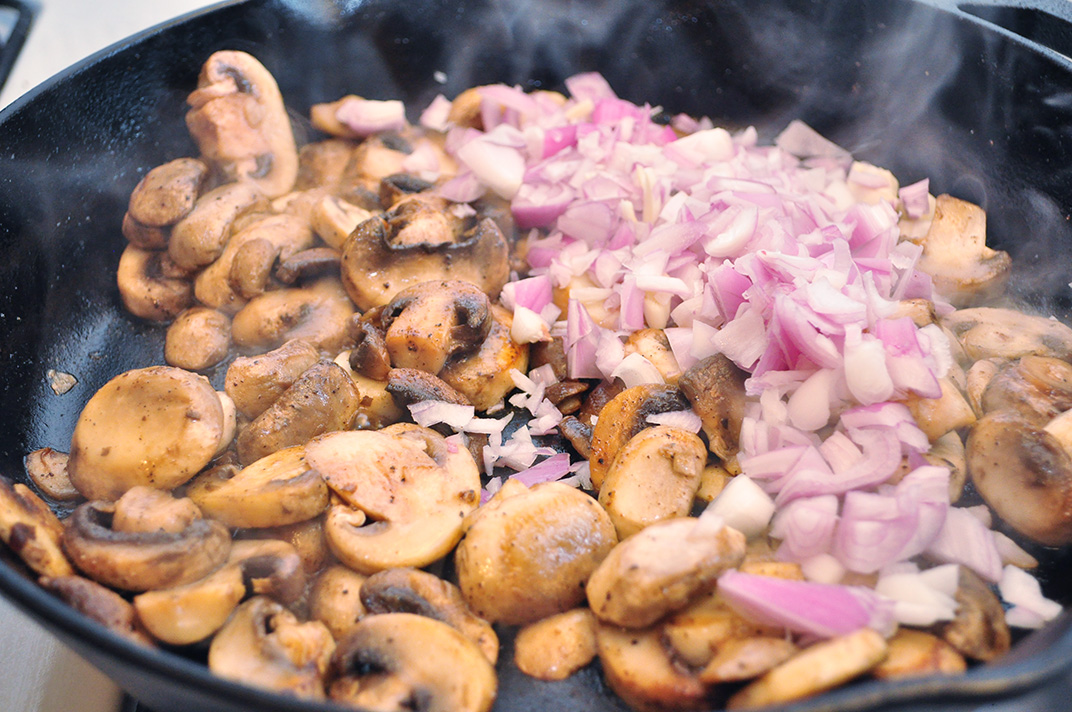 Cook for about 5 minutes, stirring frequently.
Add the Marsala wine . . .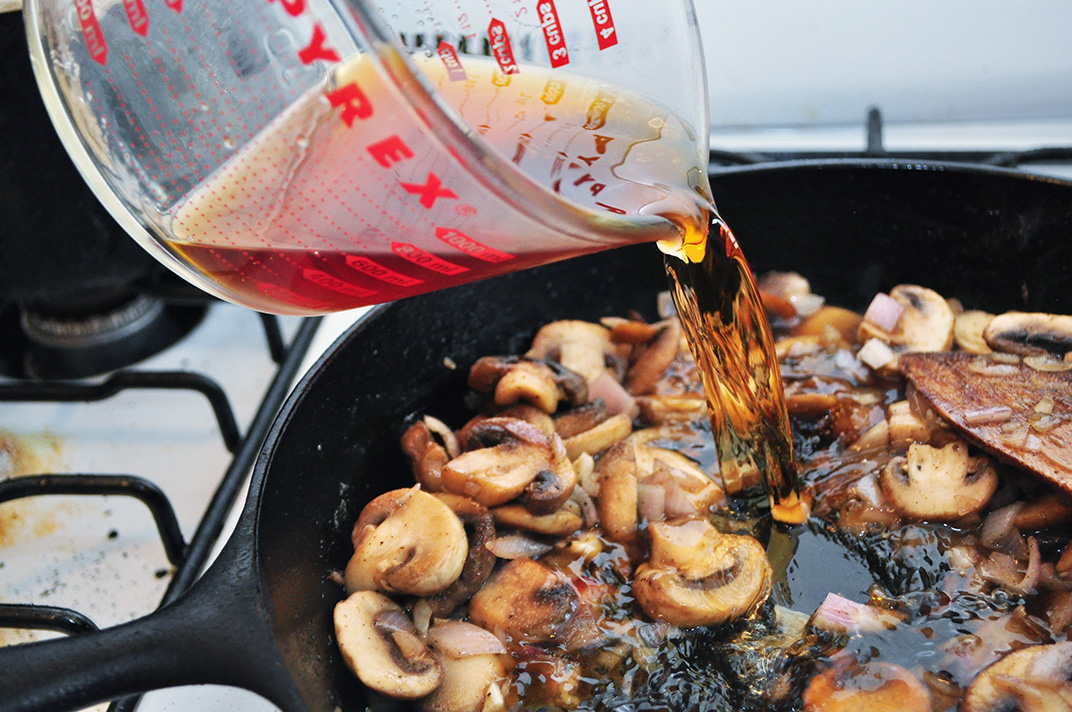 . . . and scrape up any brown bits. Simmer over medium high heat for about 8 minutes, until the liquid is reduced to about ½ cup.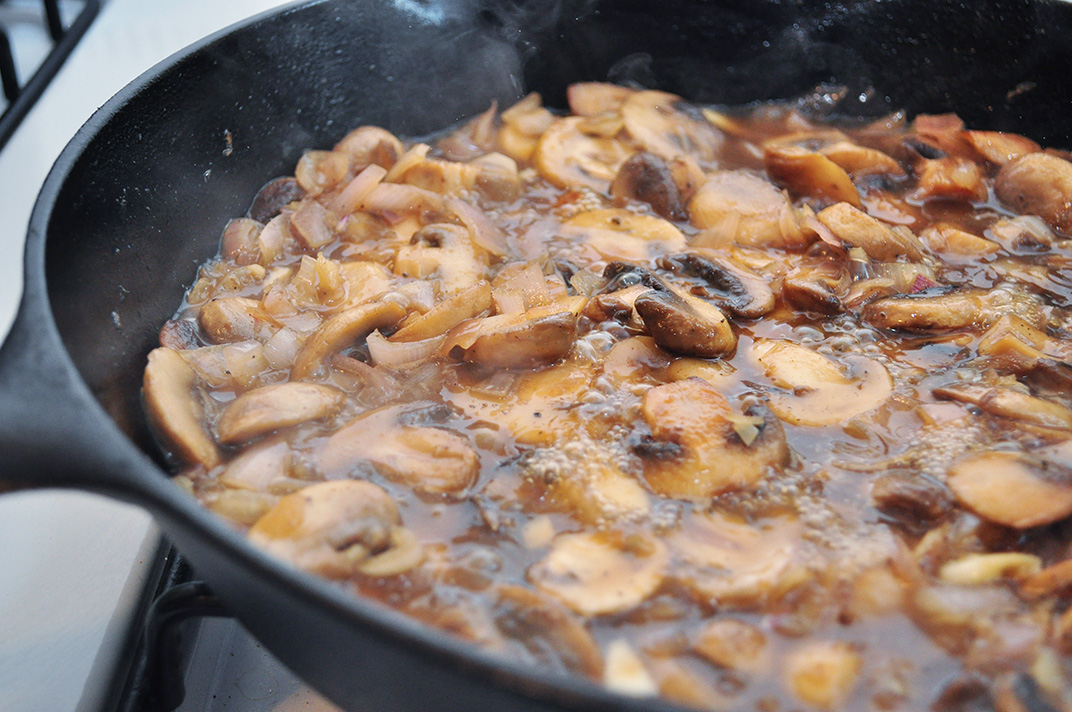 Add the chicken stock, thyme . . .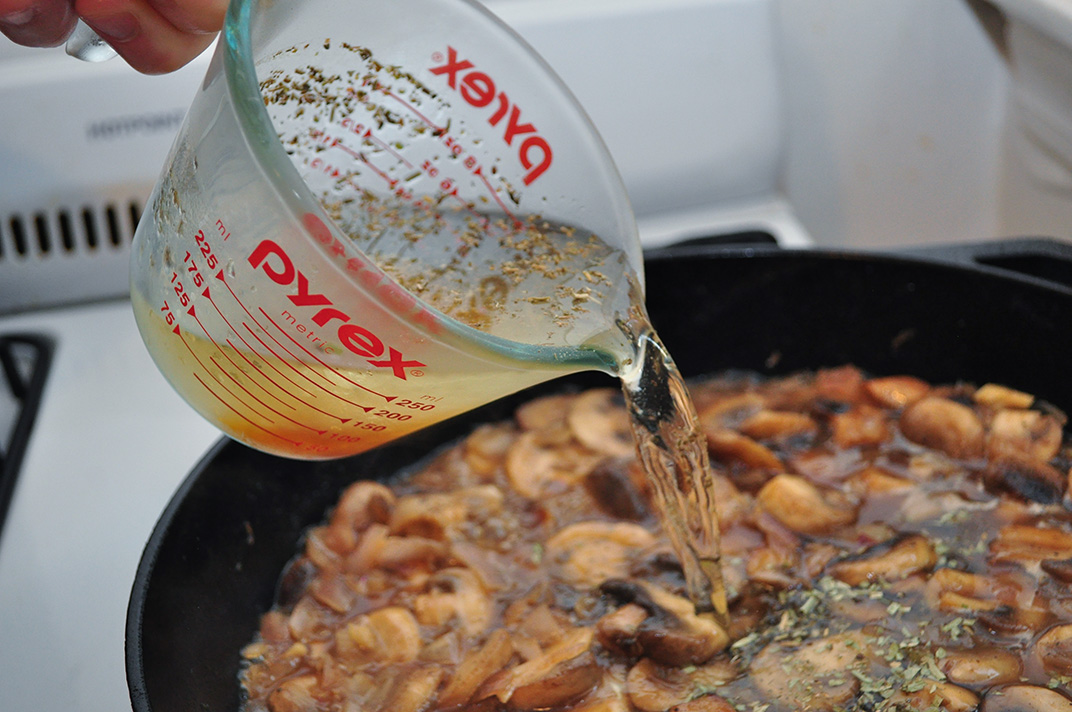 . . . cream, and some more salt and pepper.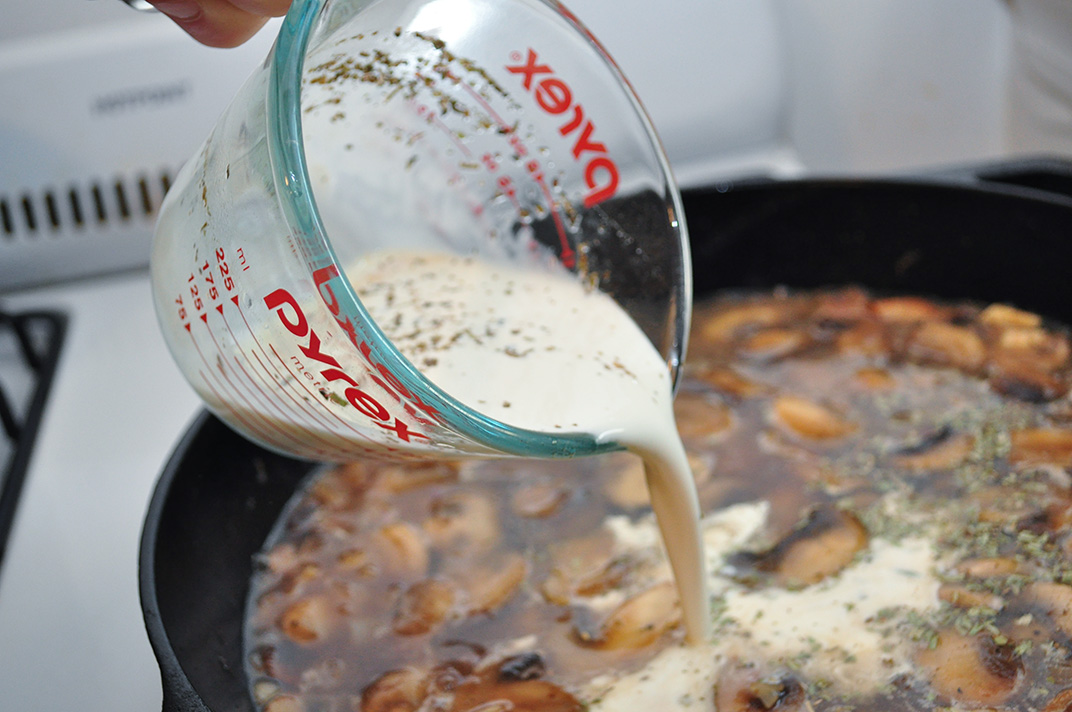 Bring to a gentle boil, and cook for about 10 minutes, until the sauce has reduced by half.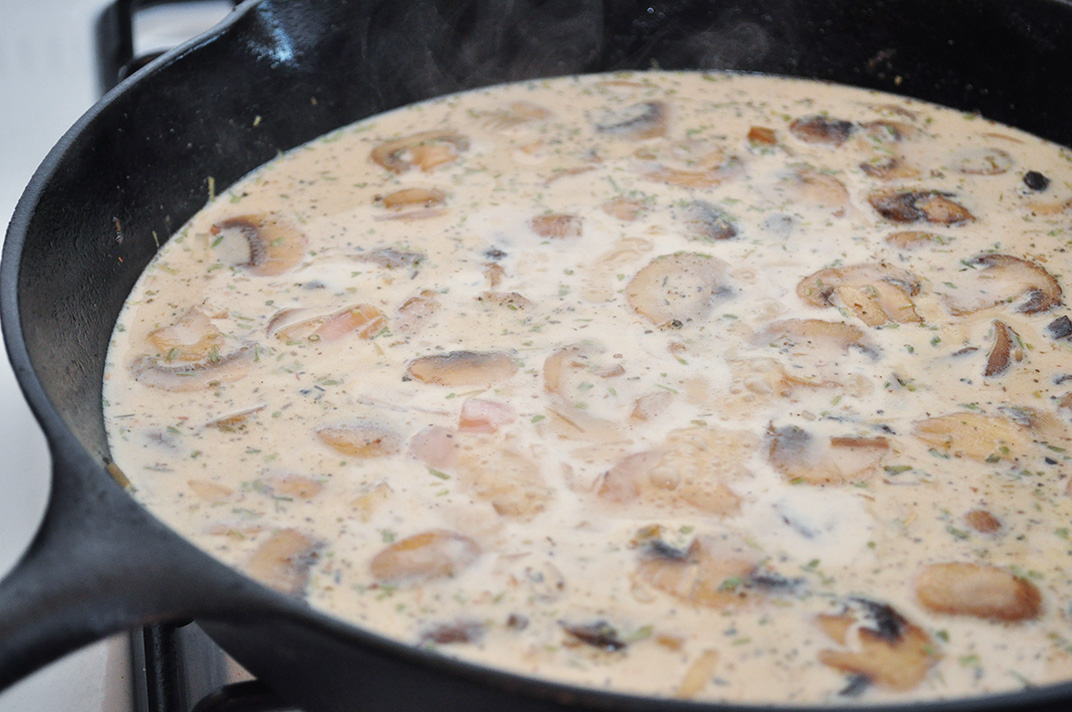 Note: I usually ignore the 'gentle' part and boil it like crazy, and it hasn't seemed to harm anything or anyone.
Return the chicken to the skillet . . .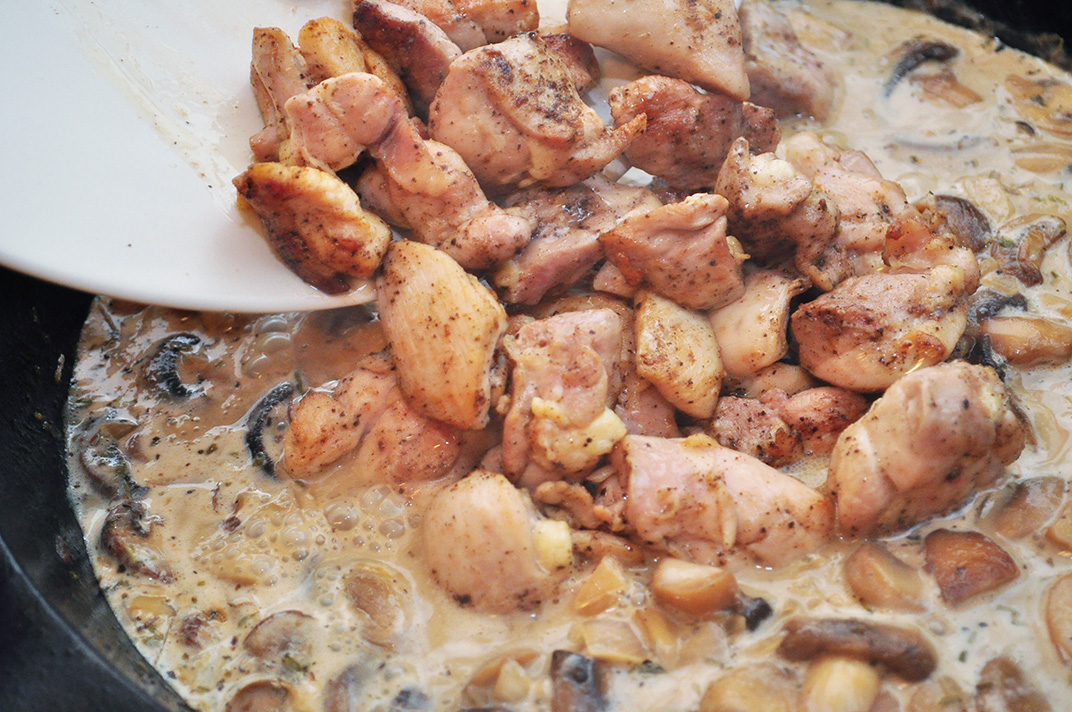 . . . and simmer over medium heat for 4-5 minutes, until the chicken is cooked through.
Add the frozen peas . . .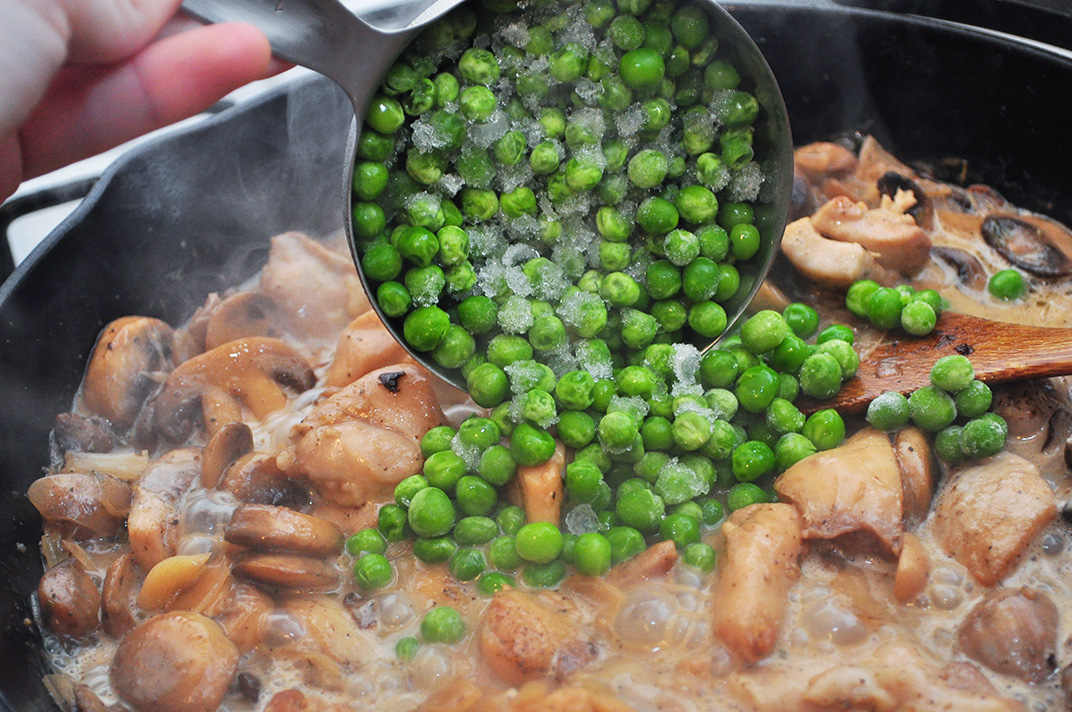 . . . and cook over medium heat 2-3 minutes, until they are hot.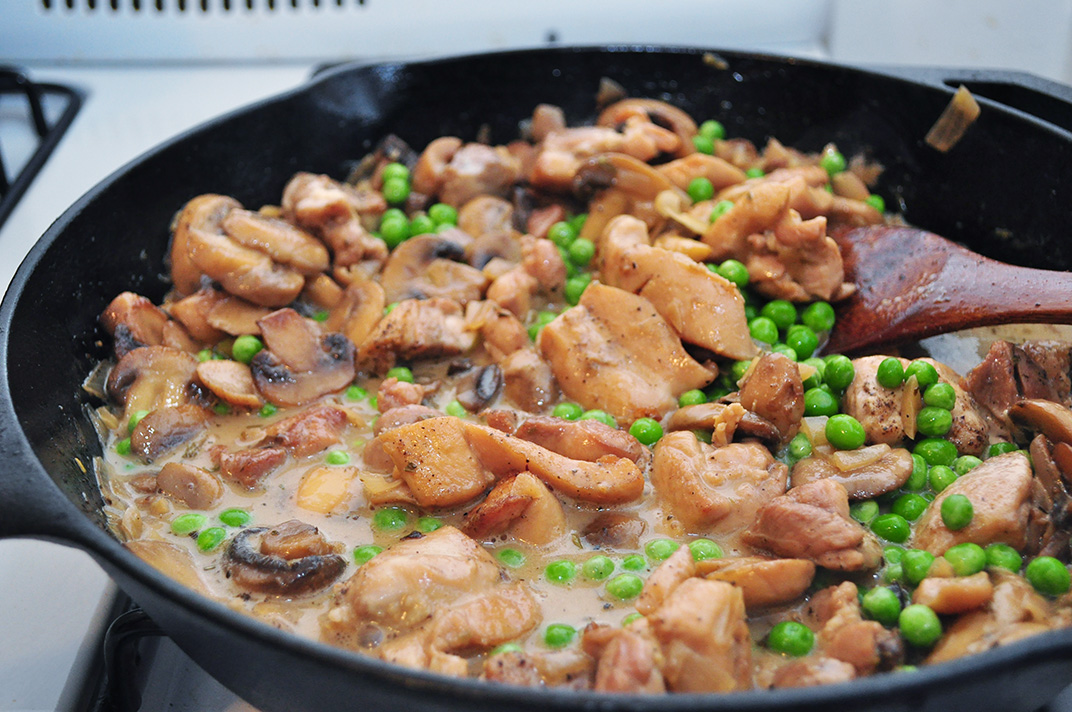 We're about done here.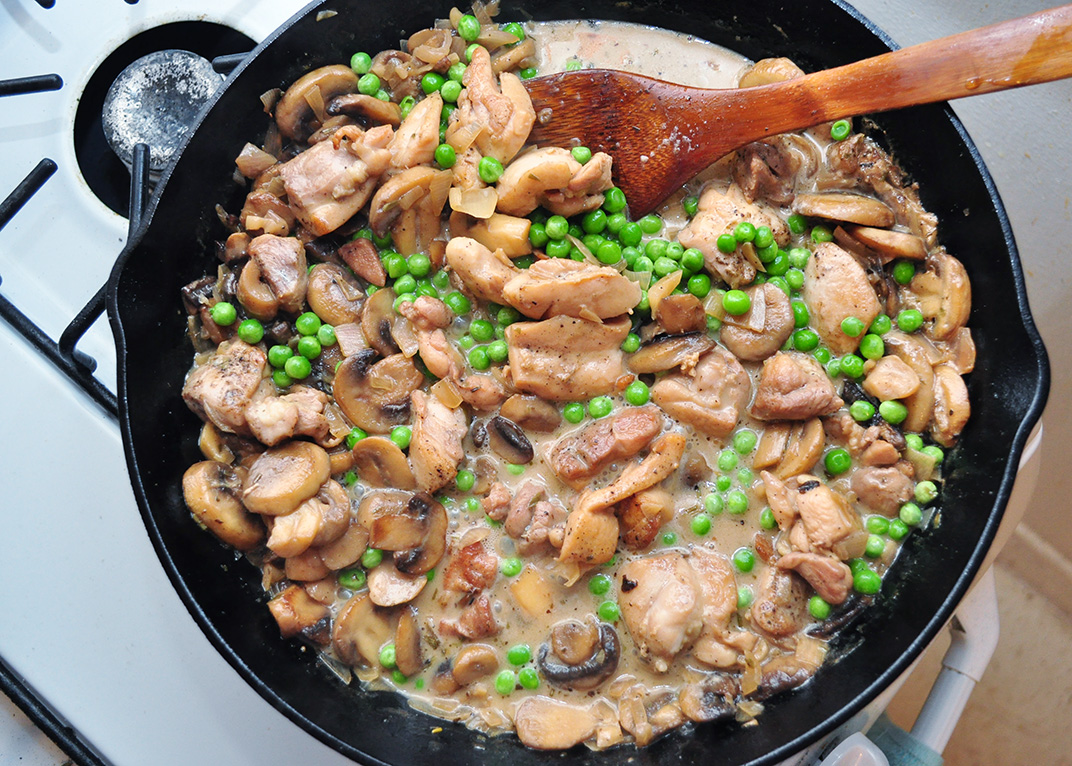 Taste and season with more salt and pepper if needed.
Mmmm! It smells so, so good guys (and I think I've officially maxed out my monthly allotment of the word 'so' as of this sentence).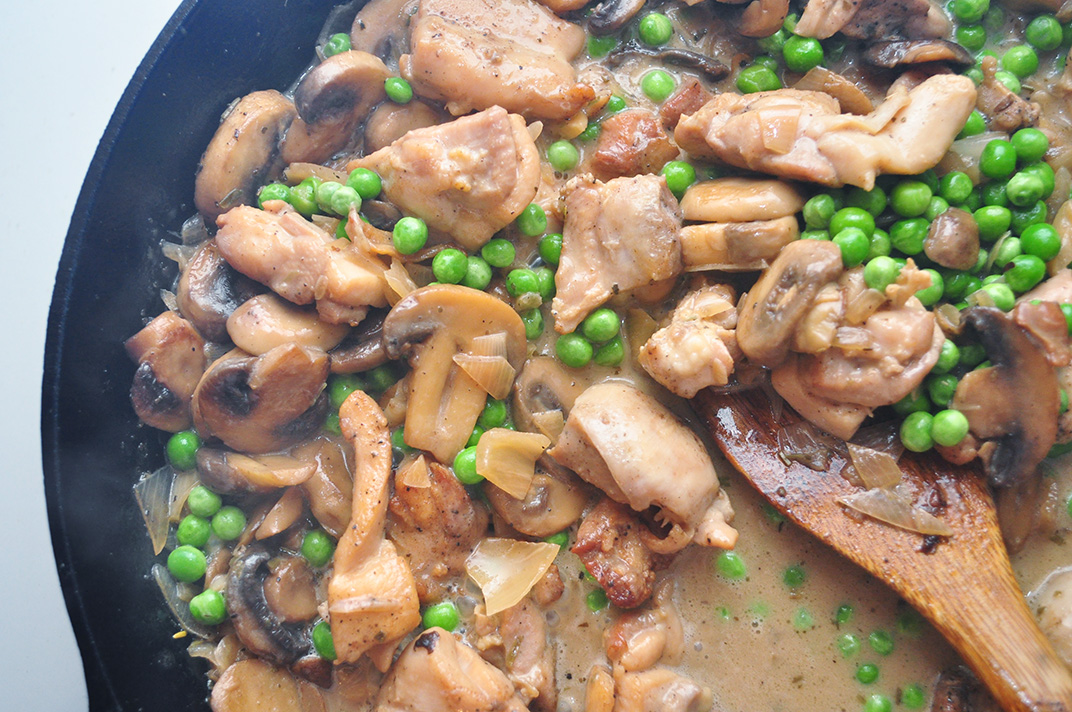 Serve over rice or noodles!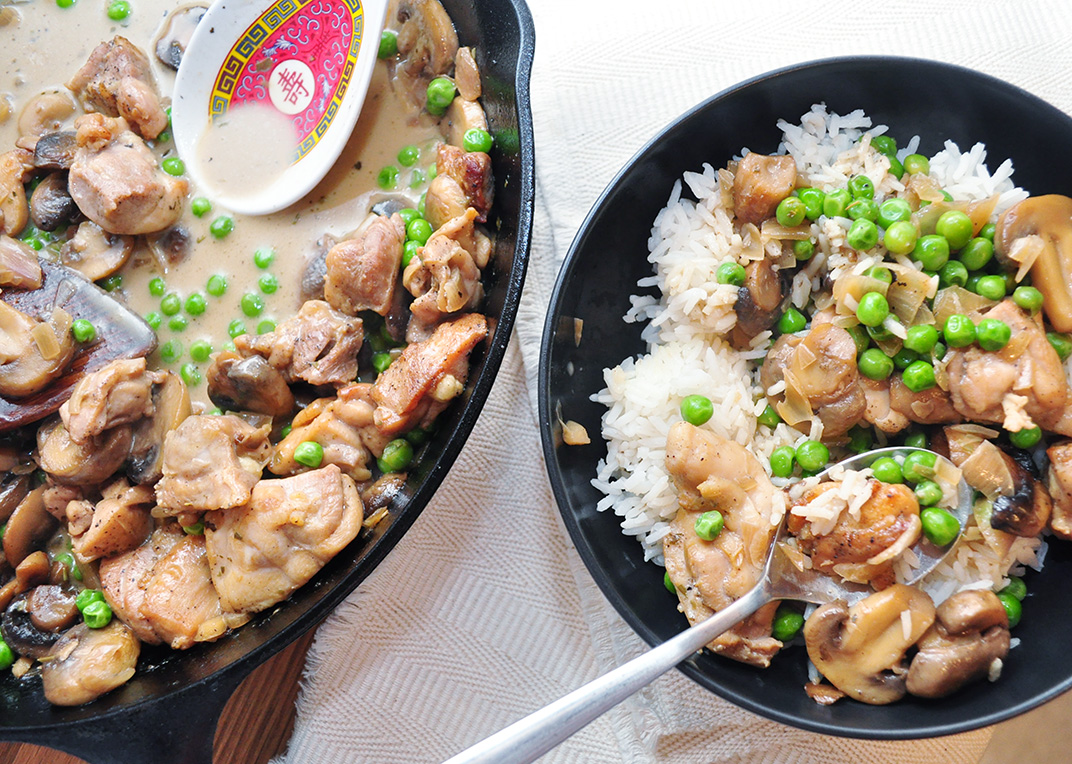 The sweet Marsala is simply perfect with the cream and shallots. These leftovers are guaranteed to be in high demand, I can tell you that.
Click here for printer-friendly version: Chicken and Mushrooms Marsala