Our library here in Edgewater is being torn down. The projected opening date isn't until some time in 2013, so in the meanwhile they have parked a little bookmobile at the corner of Thorndale and Broadway where you can pick up hold requests. So there's no browsing–but at least there's easy access to the stuff you request online.
One of the downsides of the bookmobile: to detract potential thieving situations, they have a sign proclaiming "No cash on premises" on the front door. This has implications for me personally: not only can I not thieve a drawer full of loose change (dangit!), but they also don't accept late fees at this location. Which means that if I'm late with a book, I have to hoof it to another branch to pay up. In the beginning of my relationship with the bookmobile, not wanting to hoof it anywhere, I resolved simply never to be late with my returns. However, a few months into my resolution, somehow a certain book was returned 1 day late (notice how the passive voice makes me sound somehow less responsible?). Hence, my account was frozen.
All I have to say about that is . . . crabbadonk!
With an empty library basket sitting on my shelf, I began resorting to certain comfort novels from my high school days–and that's great for a while, but soon it was time to stimulate the ole brain cells just a little more if you know what I mean. So the very day I paid off my fine (about 6 weeks ago), I immediately went online to request books. The first two  books I arrived two weeks ago, and I devoured them. Devoured them, I tell you. Here they are!
The Imperfectionists by Tom Rachman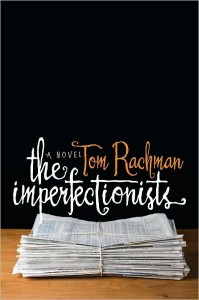 This book is essentially a collection of short stories centered around the staff of a small newspaper office in Rome. From the founding of the paper to its final edition, the novel moves through time and ends up being an obituary of sorts for the paper, which finally closes in 2007. Each story revolves around a different character, and each character of course brushes shoulders with the others, so that all the stories are interconnected and the book feels holistic.
What I loved–and you will, too–is the compassion, grace, and art of the author as he shapes each character. From the plain girl who finally finds a boyfriend–though he's a scamp–to a lunch meeting between old lovers, to an airplane flirtation between the CFO and a man she fired, to a stringer in Egypt who is walked all over by a hot-shot journalist of the most annoying proportions, the stories all touch on love in some shape or another. Now that I'm thinking about it, maybe you could say that about any book, since people and love can't be separated. But that's another topic for another day.
The vignettes are alternately tender, sad, happy, all centered around significant events in each person's life, and through Rachman's brushstrokes, he paints a picture that I wanted to keep looking at even after I was done reading. As the characters navigate death, betrayal, aspirations, and the ordinary, I got the sense that I was reading a poem about each soul. I highly recommend this book.
The Guernsey Literary and Potato Peel Pie Society by Mary Ann Shaffer & Annie Barrows
This is a marvel of a book (thanks Erin for recommending it!). The Second World War has just ended, and England is starting to process what happened. A writer in her early 30s living in bomb-scarred London, Juliet Ashton, is casting about trying to find inspiration to write a new book after the success of her first. While doing research for an article she's working on, she starts corresponding with the members of a Literary Society on the island of Guernsey.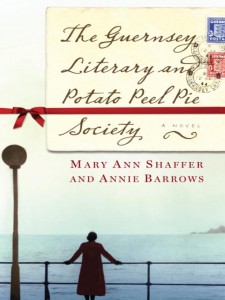 But this is no fancy-schmancy Literary Society! It comprises a handful of ordinary, not particulary intellectual people, each with a unique voice full of  quirks and eccentricities. One of the members reads only one book over and over again–the Letters of Seneca–and refuses to take up any other. Another one, effusive upon discovering the joys of Pride and Prejudice, berates Juliet for "hiding" this jewel of literature from her. There's an amateur phrenologist, reading the bumps on everyones' heads; a gay manservant who impersonated his employer for 3 years; a pig-farmer whose silent nature is just the curtain around a soul of deep thoughts.
The novel is a collection of letters, telegrams and notes going back and forth between Juliet, her editor, the islanders, Juliet's rich and imposing suitor, and other assorted characters. The letters from the people on Guernsey begin as an explanation of how their Literary Society was formed, but as they become friends with Juliet through their correspondence, they begin to retell their war stories, full of both tragedy and poignant comedy. Juliet starts sensing that her unwritten book lies in the stories of the islanders, so she decides to go to Guernsey herself to write.
The members of the Society met for solace and distraction at the beginning of the German occupation, but by the end of the war, they have become a family. They all share in the guardianship of 4-year-old Kit, whose mother Elizabeth disappeared during the war after conspiring to hide a malnourished laborer. Elizabeth, though absent in the flesh, is a central character in the book as stories about her courage and heart are woven through so many of the memories shared by the Society.
But this novel isn't just a bunch of letters and war-stories–it's also a love story, which is the best kind of story. The writing is not dark, though it deals with dark times. It is a book with spirit, with sunshine, with humor, which will leave you uplifted. Read it! You'll love every second.